Recycled Glass Subway Mosaic Tile In Blue Wood Color
$4.99
per Sample. Free Shipping!
Don't have time to wait for samples?
Exterior:

Yes

Interior Wall:

Yes

Residential Floor:

Yes

High Traffic Floor:

Yes

Shower Wall:

Yes
Shower Floor:

Yes

Steam Shower:

Yes

Pool/Fountain:

Yes
More Details ▽
How many tiles do I need?
Description
Reviews
Q&A
Installation
Use wood-looking recycled glass tiles to update your space and bring a natural wood feeling with a nonporous surface. This tan and blue recycled glass mosaic tiles allows you to have the beauty of wood-look tiles with an easy-to-clean glass surface, and thanks to the use of recycled glass, is a great way to incorporate eco-friendly and sustainable building materials into your home! Subway tile is a popular and timeless look in kitchens and bathrooms due to its versatility and timeless look. While it gives a clean backdrop for your home design to shine, it allows other design elements to take center stage. This mosaic tile has beige and blue color subway tiles laid on a mesh for easy installation. It can be applied in almost any area including your interior and exterior spaces! The durability of glass tile makes it a perfect choice for all wall applications, especially areas that might be exposed to water so don't look further for a blue tile backsplash! The most popular use of this tile is backsplash for kitchens or shower walls as it is easy to clean while creating a beautiful aesthetic finish with natural tones!
Sold by: sheet

Sheet Size: 11.5" x 11.5"

Grout Spacing: 1/8"

Material: Recycled Glass

Color: Blue, White, Beige, Gray

Finish: Matte

 

Packing info:

Pcs per Box: 10
Sq. Ft. per Box: 9.18

Sheet or SQ. FT weight:

 3.3 lb

Area of use:

Wall: Indoor, Outdoor
Floor: Residential, Commercial
Shower Wall: Yes
Shower Floor: Yes
Steam room: Yes
Pool: Yes

 

 

 

 
Customer Reviews
Write a Review
Ask a Question
09/17/2021
Anonymous

United States
Really?
Why aren't these blue wood glass subway backsplash tiles we purchased in every magazine everywhere? Stunning! OMG! Can't stop staring at them long enough to install! Help!
04/14/2021
Anonymous

United States
We love it
We live the tile we will be ordering it ASAP just finishing a project first Service was great thank you
12/25/2020
Anonymous

United States
Beautiful Product!
Great experience. I was nervous about having tile shipped, but it was well-packed, and breakage was minimal. I needed cut tiles for my project, so the few that were broken were used in those places. Recycled glass tile is hard to cut! I'd recommend including instructions on the website.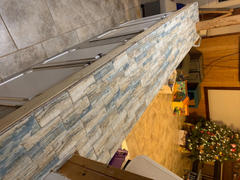 What a beautiful countertop, thank you for sharing! And thank you for the feedback on providing instructions for cutting glass tile. I've forwarded this suggestion to our team. Happy Holidays! -Samantha, Tile Club
10/06/2020
Anonymous

United States
Beautiful!
I changed my mind on where to put it as it looks great everywhere!
08/04/2020
Angie L.

United States
Beautiful color
This is the tile texture and color I've been looking for a long time. Can't believe it's recycled glass tile and not actual wood. Lovely blue mixed with beige color. My kitchen looks stunning now.
Can you lay out these tiles in different ways?

This is a mosaic tile, so the tiles are pre-laid in a running bond pattern on a mesh backing - it makes installing the tile design much easier! If you prefer a different tile layout with this look, we do carry a herring mosaic pattern in the same color and look that's also pre-laid on mesh!