This gorgeous backyard addition takes the spotlight with our Pearl White Weaved Hexagon Glass Mosaic tiles.
This summer, there's no need to spend an arm and a leg to make your backyard pop or for your family to have fun! We have compiled a list of our go-to outdoor design ideas that are easy and can fit multiple budgets. Read on and get inspired!
Refresh your backyard with a little TLC 
There's nothing some TLC can't do for a space. Take it from this gorgeous patio design with our
White Sparkle Waterjet Mosaic Tile
. A quick cleaning and resealing and it's back to beauty in no time!
Your backyard is the perfect place to relax and enjoy the summer sun, so make sure it's looking its best with a little bit of TLC. Start by mowing the lawn and trimming overgrown bushes or trees. Then, give your patio or deck a good power wash to get rid of any dirt or grime. 
Once everything is clean and neat, you can start thinking about adding some fun summertime touches!
Create a DIY fire pit
Fireplaces, move over, there's another guy in town! DIY Fire pits, that is. Amp up the basics and find a stylish statement patio tile like our Geo Square Tile shown above to make a design splash.
We don't know about you, but we love spending time outdoors in the summertime. There's something about the warm weather and long days that just makes us feel happy. One of our favorite things to do is spend an evening around a fire pit. There's no greater feeling than the warmth of a freshly laid fire, and the way the flames dance in the darkness. 
Create a stunning terrace with terrazzo tile paired with ample seating and a glowing firepit!
Plus, it's the perfect way to extend your outdoor time long after the sun goes down. You can buy a pre-made fire pit, or get creative and make your own! Either way, we're sure you'll agree that a fire pit is a great way to enjoy the summer evenings.
Set up a DIY bar
Say cheers in style with an easy terrace design idea: Updated outdoor bar or a DIY version for those on a budget. We love the bar refresh in this contemporary outdoor area using our Nero Marquina and Thassos White Hexagon Marble Mosaic Tile.
Summertime is the perfect time to set up your own outdoor bar. Whether you're hosting a party or just enjoying a quiet evening at home, there's nothing like a refreshing cocktail to cool you down. But why go to a bar when you can enjoy all your favorite drinks in the comfort of your own home? 
The hardest decision to make when crafting a DIY bar is knowing if you want a dedicated bar area, or would you prefer to set up a temporary bar on your deck or patio. If you're short on space, a folding table or even a wheelbarrow can be transformed into the perfect bar station. If you're not, go big and install a gorgeous permanent bar with tile surround for ample impact! We love a good waterjet tile moment with pattern tiles and bold colors.
Create a cozy reading nook 
Creating a space for books is easy…adding style? Also, easy, if you choose the right tile. Such is the case for this amazing outdoor reading nook that uses our Brick Brooklyn Gris tiles for a sweet, modern design.
If you're a book lover, one of the best ways to enjoy reading is by creating your own outdoor space. With just a little bit of planning, you can create an oasis for soaking up your favorite books all summer long. All you need is some comfortable seating, beautiful patio tiles and some shade. Then, it's off to fantasy or mystery land. The best part about reading in your backyard is that you can enjoy nature while getting some fresh air and sunlight.
Fresh air and sunshine are great for the soul, and they can also help you focus while you're diving into your next novel. So go ahead and make your garden your new favorite place to curl up with a good book.
Make a DIY backyard game area 
Did someone say game time? This home is prepped and ready with a side of eye candy thanks to our Arrowhead Antique Mirror Glass Marble Mosaic Tile acting as a totally chic accent wall design in the sunroom.
When it comes to game night, there's no need to be a couch potato. Why not take the fun outside with a DIY backyard game area? Whether you're playing checkers, chess or Candyland, a game area is sure to be a hit with family and friends. 
All you need to create this space is some cozy seating. To make it even more splash-worthy, consider adding a statement wall tile. With just a few simple supplies, you can turn your lawn into the ultimate game night destination. So go ahead and roll the dice on this fun project!
Set up an outdoor movie theater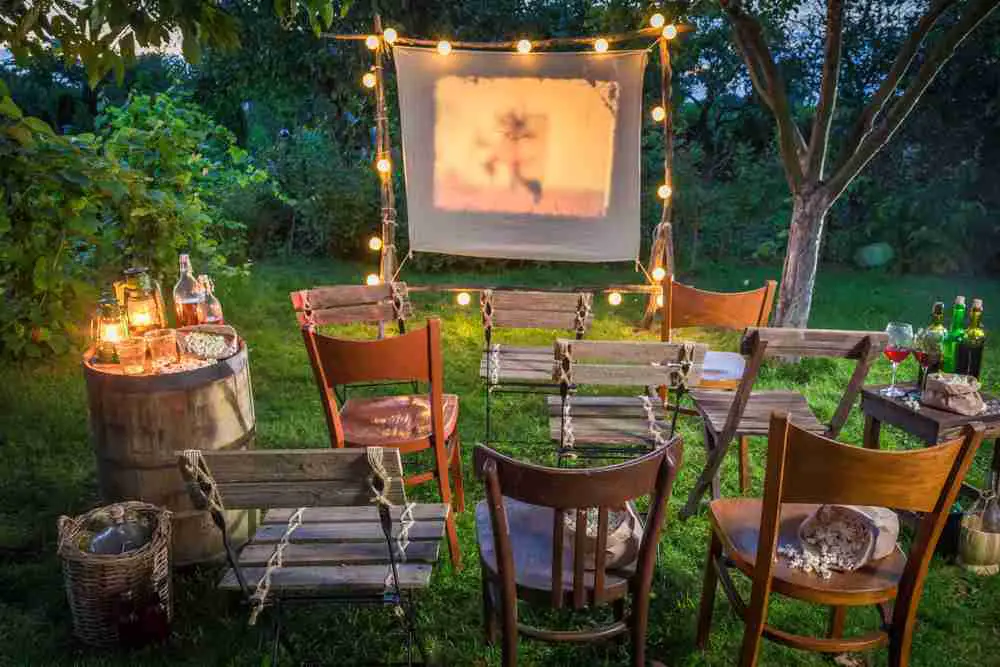 When in doubt, pull a projector out. Or, so we learned from My Garden Life with this exquisite display of a DIY home movie theater for your backyard. 
Setting up a backyard movie theater is the perfect summer activity for movie lovers. Not only do you get to enjoy your favorite films in the comfort of your own home, but you can also invite your friends and family to join in on the fun. All you need to do is set up a projector and create some seating. 
You can use lawn chairs, blankets, or even pillows to create a comfortable viewing experience. And don't forget the popcorn! Once you have everything set up, you can sit back, relax, and enjoy the show. So grab some friends, pop some popcorn, and get ready for a fun-filled summer of movie nights.
Make a DIY S'mores station
Creating the most glamorous s'mores station we have ever seen, this home's designer used our Textured Wooden Beige Leaf Marble Mosaic Tile as an outdoor fireplace tile surround. The tone, the texture, and the styling come together with patio furniture to make it a s'mores worthy summer success in our opinion! 
Ah, s'mores. Is there anything more quintessentially summer than gooey chocolate, sticky marshmallows, and crunchy graham crackers? A classic campfire treat, s'mores are the perfect way to end a warm summer night. And what better place to enjoy them than by your very own outdoor tile fireplace? 
DIYing your own s'mores station is easy and fun. Start by gathering all the essential ingredients: marshmallows, graham crackers, and of course, chocolate. Then, get creative with your toppings. Try adding a few squares of your favorite candy bar, or experiment with different flavors of marshmallows. Once you've got everything you need, invite your friends and family over for a sweet summer treat.
Upgrade your outdoor kitchen area 
Making this backyard's kitchen noteworthy and stunning is our 1x3 Equator Herringbone Polished Mosaic Tile as a backsplash. We love the pairing of a lean, natural wood floating shelf for storage and the otherwise minimalist appeal of the area. Definitely proof it's easy to upgrade your al fresco kitchen with a few key touches. 
If you're like most people, your outdoor kitchen and barbecue area is the place to be when the weather is nice. But why settle for an ordinary space when with a few simple upgrades, you can transform it into a must-hang spot? Start by installing a built-in grill. Not only will it make grilling easier, but it will also give your  kitchen a more polished look. 
Next, add some comfortable seating. Whether you choose patio furniture or built-in benches, make sure there's enough room for everyone to relax and enjoy the food. 
Finally, don't forget the finishing touches. String lights, potted plants, and colorful tablecloths can all help to create an inviting atmosphere. With these few upgrades, your exterior kitchen will be the envy of the neighborhood.
Hang a hammock!
Hammocks are made for summer, with their laid back, bohemian chic appeal. They make the greatest place to relax and unwind. We love the way Inspiration for Moms styled their hammock in this courtyard including stepping stones for added convenience. 
If you're looking for a simple way to upgrade your backyard this summer, look no further than your local hardware store. 
That's right, a quick trip to pick up some supplies and an afternoon of DIYing can transform your yard into a relaxation oasis. And what better way to unwind than by hanging a hammock? 
Hammocks are relatively cheap and easy to set up, and they offer a respite from the summer heat. Whether you're lounging solo with a good book or enjoying quality time with family and friends, a hammock is the perfect addition to any backyard. So if you're feeling uninspired by your outdoor space, don't hesitate to try this quick and easy project. You'll be glad you did!
Create a backyard retreat with a pergola 
Using our Retro Blanco Reclaimed Wood Look Tile this homeowner's pool flooring is perfectly complemented by the bright white adjustable pergola. 
A pergola is a backyard retreat that can provide shade or sunlight, depending on your mood. They're perfect for summer days when you want to cool off in the shade, or for summer nights when you want to enjoy the stars. 
Pergolas are also a versatile outside addition that can be used for entertaining, relaxing, or even working from home. And because they're made from wood, they can easily be customized to match your backyard décor. So if you're looking for an addition that will make your exterior space more enjoyable, then a pergola is the perfect choice.
Hang some string lights or tiki posts 
An all neutral space can really light up when some string lights are added! Take for example this gorgeous rustic retreat using our Vancouver wood look tiles. 
If you're looking for a way to add some pizzazz to your home this summer, consider hanging some string lights or tiki posts. String lights are a classic summertime decoration, and they can add a touch of whimsy to your lawn. 
Tiki posts, on the other hand, are perfect for creating an exotic ambiance. Whether you're hosting a luau or just relaxing in your backyard with friends, tiki posts can help you transport yourself to the islands.
Consider some backyard mosaic artwork
Beautiful mosaic tile murals can add an awesome touch to patio floors, pools, or even outdoor kitchen backsplashes!
Why not try your hand at some mosaic artwork? Mosaic tile murals or art are a great way to add a touch of whimsy and personality to any sunny space. And best of all, they're relatively simple to design. 
Just gather up some colorful tiles, stones, or glass beads, and let your creativity run wild. In no time at all, you'll have created a one-of-a-kind piece of art that will brighten up your yard for years to come.
Want a more luxurious version of this that requires a pro? Consider Tile Club's mosaic tile art installations.
Make a splash with new pool tile
Dive right in with a new pool tile! We are personal fans of the way this organic look pool uses our Blue and White Hex glass tile as a pool liner to keep a fresh summer look all year round.
Swimming pools are often the centerpiece of an outdoor oasis. They provide a place to cool off on hot days and a gathering spot for family and friends. If you're thinking about giving your pool a makeover this summer, one great way to do it is with a new tile design. 
There are endless possibilities when it comes to pool tile, so you're sure to find a style that fits your taste. Plus, new pool tiles can help give your pool a fresh look and feel.
Add some DIY color with throw pillows and décor accents
What can make color accents pop even more? Neutral tone floor tiles! Take a look at how this patio design uses our Diamond Chain Mosaic tile.
Want to add a touch of color to your backyard this summer?  Why not try some DIY décor accents? Throw pillows are an easy way to add a splash of color to any outdoor space. You can find inexpensive pillows at your local home décor store, or even make your own using fabric scraps and old pillowcases. 
Another great way to add color is with décor accents like signs, planters, and lanterns. You can often find these items second-hand at yard sales or flea markets. And if you're feeling really creative, you can even paint them yourself! 
Just a few simple touches can make a big difference in the look of your backyard. So get creative and have fun!
Paint colorful stepping mosaic tile stones to brighten up a tile walkway 
Take a cue from iCreativeIdeas and design mosaic tile stepping stones in bright colors that will instantly brighten your landscape design!
Is your backyard walkway looking a little dull? Spruce it up with some color! Mosaic tiles are a fun and easy way to add personality to any space. Plus, a pop of color on your steps is a great way to show off some style. 
One way to do this is to create mosaic stepping stones using colorful tiles. 
You can either purchase tiles specifically for this project, or you can use leftover tiles from other projects. To create the stones, you will need to measure and cut the tiles to size. 
Once the tiles are cut, you will need to adhere them to the top of each stone. 
You can use grout or another type of adhesive to attach the tiles. Then when the adhesive has dried, you can enjoy your new and improved walkway.
Set up an exterior tiled shower 
Shower away the day with a glamorous or Zen style outdoor shower. We love this example of an organic modern home that used our Noce Travertine Large Penny Round Tile.
Ready to add a touch of luxury to your backyard? Then consider installing an outside shower. Not only will it be great for washing off sand after a day at the beach, but it'll also come in handy for rinsing off after a swim in the pool. 
Plus, it's a great way to add a bit of personality to your exterior space. When choosing tile for your outdoor shower, think about going for a statement style. Bright colors or bold patterns can really make a statement, and they'll help to inject some personality into your space. 
Just make sure to choose a tile that can withstand the elements. After all, you don't want your beautiful new tile to start peeling after just a few uses.
If you've made it here, congratulations, you're an expert on easy backyard design ideas to make your summer swoon-worthy! We hope you have one or two ideas you're set on implementing, but in case you need just a few more, feel free to peruse our outdoor tile look book. Here's to gorgeous, summer days ahead and a beautiful space to match!