Your pool is the pride and joy of your backyard. It's also a permanent fixture you've got to live with for, well–ever. That's why designing your pool with quality materials that complement your home's aesthetic is vital for achieving a cohesive look, and modern pool tile offers both.
Read on to discover the benefits of pool tile and to see how our favorite modern pool tile ideas use today's hottest tile options to elevate the look and feel of any outdoor oasis.
The Benefits of Pool Tile
If typical pool design has you less than enthralled, the versatile world of pool tile is sure to grab your attention. With pool tile, you can mix, match, and create custom designs that fit your aesthetic and budget. You can go all-out with a top-to-bottom inlaid tile design or opt-in for a stunning waterline tile design full of subtle detail or big personality.
This gorgeous pool design features black and blue square pool tile for a sleek and modern look. 
Another aspect to consider is durability, and pool tile is one of the most durable pool materials around. While concrete is also highly durable, it lacks style. Vinyl liners can tear (especially if pets are playing in the pool) and, over time, become brittle from intense sun or a combination of sun and cold exposure. Plus, pool tile offers endless style options in durable materials like glass and porcelain, which makes finding an aesthetically-pleasing option even easier.
Worried about extra maintenance? Don't be! Most pool tiles like glass and porcelain are easy to clean, and glass tile is mold, mildew, and stain-resistant.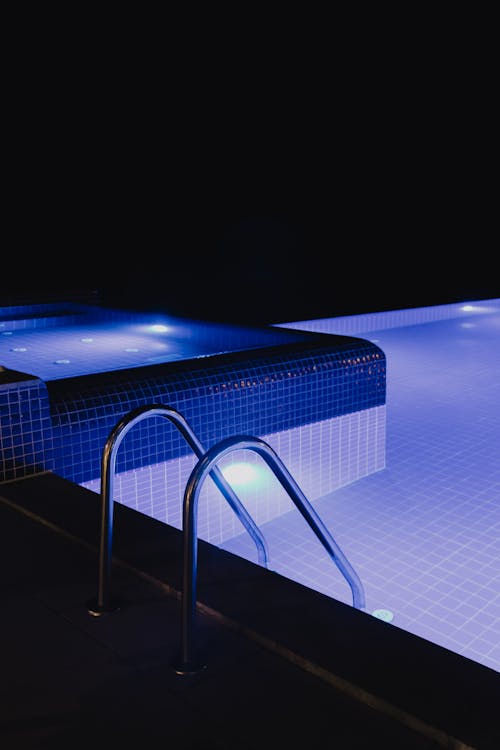 Set the mood once the sun goes down with pool lights that showcase the versatile beauty glass pool tile offers. 
Now, let's discuss design options for your new pool design!
6 Modern Pool Tile Designs For Every Aesthetic
Boldly Blue
Sometimes the best modern pool tile ideas are the ones that incorporate classic looks. As the quintessential pool color, a blue tile design can incorporate that traditional look you love with a modern twist. Shake things up with a deep blue hue or ice cool color that can cool you down before your toes ever touch the water. If blue is the color for you, these next inspirational pool tile design options are sure to please.
Dive into shades of turquoise this summer with Tile Club's Kailua Blue Mixed Square Glass Tile.
Create a Grecian-inspired modern pool tile design for a staycation spot you can't get enough of with Tile Club's Aquarium Blue Mixed Squares Glass Tile.
For a modern take on traditional blue pool tile, look no further than Tile Club's Dolphin Bay Blue and White Mixed Glass Mosaic Tile.
A simple indigo blue border surrounding a classic blue pool tile is a stylish way to outline the stairs for enhanced swimmer safety. You can achieve a similar look with Tile Club's Sparkly Ocean Waves Mixed Squares Glass Pool Tile and the Midnight Blue Squares Glass Pool Tile as the border.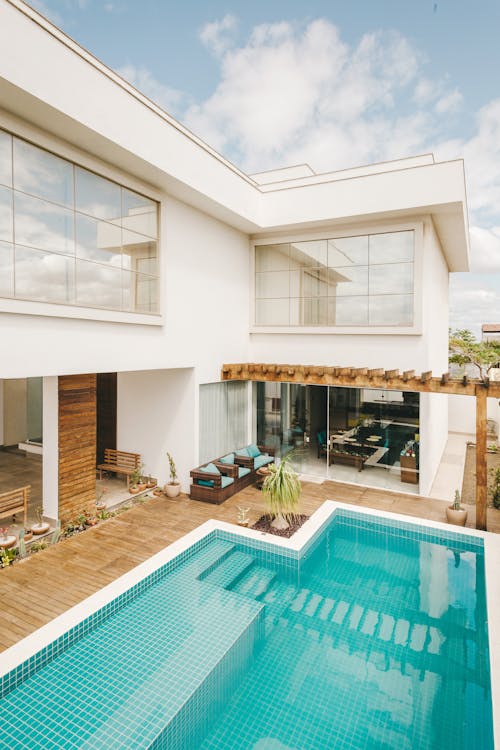 This gorgeous aqua and white oasis perfectly illustrates the power of modern pool design while paying tribute to the classic blue pool tile. We love how the white tile surrounds the pool to make it pop, and the natural decking material and pergola tie the design together with the bright and modern home. Achieve a similar look using Tile Club's Beach Blue Squares Glass Pool Tile and a large format white pool tile surround. 
Dark and Daring
Modern design comes in many different shapes and forms. For some, it might mean bright and airy. For others, modern might mean dark and daring. If you prefer the latter, these deep dark pool design ideas will blend seamlessly with your overall aesthetic.
Did you know that dark tile can retain heat better than light-colored tile? It's true! And whether you want your pool to be just a little bit warmer for the kids, or you crave a modern pool design equal parts bold and unique, a black pool tile design can make it happen.
Achieve a similar look to this pool tile shared by The New Build House with a glass subway tile and white grout, or keep it monochrome with a matching grout. We recommend the Glacier Black 1x1 Frosted Glass Tile to achieve this look in your home or commercial pool design.
This incredible shot via Home Stratosphere perfectly demonstrates how a black pool can complement a dark and moody architectural design. We love how the dark siding, natural wood, stone finishes, and infinity hot tub come together to create a space that's bold yet inviting.
Love the idea of a black pool tile, but don't want to settle with traditional square tile? This Ionic Herringbone Steel Porcelain Mosaic Tile offers the ideal combination of bold color and shape for a truly stunning dark and daring pool design to take your breath away. Or, for even more tile shape options, consider a black penny round pool tile like the Obsidian Black Penny Round Glass Tile.
Custom Mosaic Tile for a Captivating Pool Design
Nothing screams new and modern like a custom mosaic pool tile. Did you know that Tile Club has a Custom Mosaic Tile Design Program? It's true! You can work exclusively with our tile designers to create a one-of-a-kind pool tile design that showcases your personality. Who knows, maybe your look will inspire a new era of modern design! 
Showcase your entire pool with a custom mosaic inlaid tile, or bring a custom waterline tile idea to life with help from Tile Club.
The pool is for having fun, so why not make a splash with a mosaic tile design that transports you to an underwater world all your own? Make it happen by reaching out to our team for a custom mosaic design!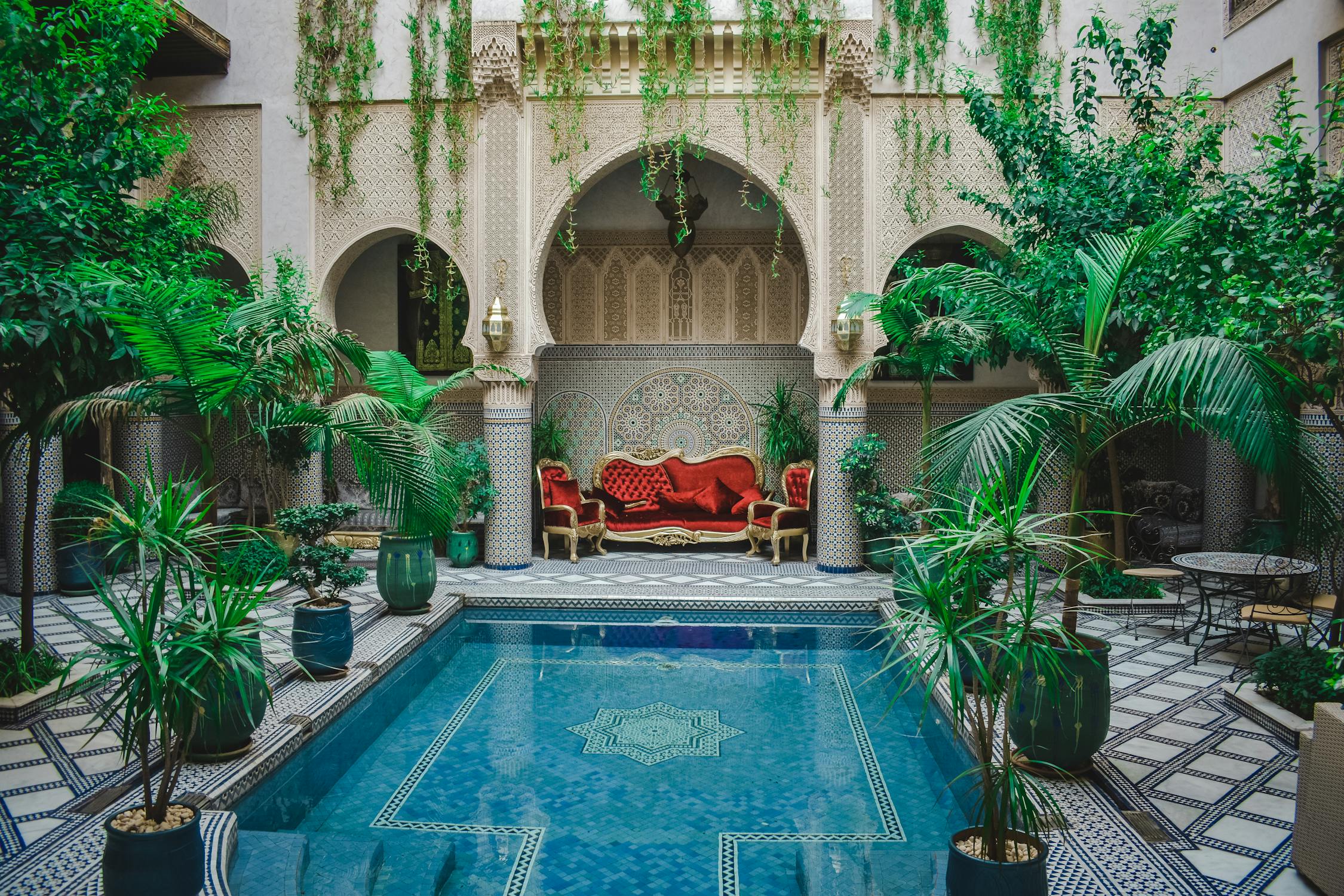 This breathtaking Moroccan pool boasts old-world charm with new-age tile for a one-of-a-kind look you can mimic with a custom tile design from Tile Club.
With stunning shades of lush and cool greens and mustard yellows, this Tile Club original mosaic design is sure to make you feel like you're on a tropical vacation without ever leaving home.
Dress Up Your Pool Waterline
Maybe a pool dripping in top-to-bottom tile doesn't necessarily fit your budget. No problem! There are plenty of incredible modern pool waterline tile ideas to add subtle detail to the top of your pool surround. Shop our entire selection of pool tiles to find a modern pool waterline tile idea that suits your aesthetic, or keep scrolling through to see some of our tried-and-true favorites.
Whether your pool floor is black, blue, or a light concrete color, the Blue and White Hexagon Glass Mosaic Tile is a modern pool waterline tile idea that will complement several color schemes and designs.
Want to stun with subtle detail? This Ionic Herringbone Sand Porcelain Mosaic Tile is a neutral tile that can add a modern pool waterline without causing too much distraction.
 Take your modern pool waterline tile idea and incorporate it underwater to help outline steps, or separate water features. You can achieve a similar look with Tile Club's Underwater Oasis Mixed Squares Glass Tile.
Pair this Shimmer Black Glass Mosaic Tile with a black, blue, or even white inlaid tile for a pool design that really pops.
Do you have a favorite flower, color, shape, or design you'd like to incorporate into your pool design? A custom waterline tile can accommodate your personal favorites to make a one-of-a-kind modern pool waterline tile idea only you could dream of. Contact Tile Club today to start planning your custom waterline!
Play with Pattern
Pattern is a powerful design element that can add depth, dimension, and interest to any space, and your pool is no exception. Whether your patterned pool tile ends at the waterline, or you take advantage of a full-scale inlaid pool pattern that makes a statement, the sky's the limit when you want to incorporate pattern in your modern pool tile design. Keep scrolling to see what we mean!
This concentric circle pool design is a perfect example of just how playing with patterns can pay off. You can achieve this same look with the Glacier White Polished and Glacier Black Polished glass square tile and inverted grout colors.
Sick of seeing square pool tile designs? Shake things up with a penny-round patterned tile from Tile Club! We have several color options to match your space. Choose from classic black and white pearl to several hues of blue and multicolored penny round tile to find the perfect fit.
This Blue Leaf Recycled Glass Mosaic Tile combines a luxurious matte look with eco-friendly recycled tile for a modern pool design option you will love to show off. This tile is also available in a white and beige color combination.
Think Outside of the Water
Your modern pool tile design doesn't have to end at the waterline. In fact, to achieve a more cohesive look, incorporating tile outside of the water can be a great idea. Here are some of our favorite examples of thinking outside of the water with your modern pool tile design with some of Tile Club's bestselling outdoor tile options.
If you go dark and daring with your pool design, why not carry that over into the patio area as well? This gorgeous bar backsplash features Tile Club's Black and White Marble Penny Tile, an indoor and outdoor tile made from eastern marble in a classic design pattern.
If your modern pool design deserves a mid-century style accent, this Nero Marquina and Thassos Hexagon Marble Mosaic Tile can lend a helping hand.
Your deck has the power to make or break your overall home and pool aesthetic. A wood-look porcelain tile, like the Tribeca Miel shown here, is a simple design rich in character while blending seamlessly with both the wood and water structures. Tile Club has several attractive wood-look tile options in dark and light shades to match your existing or soon-to-be stunning pool area.
This White and Black Terrazzo Hex Porcelain Tile is a gorgeous wall and floor tile approved for outdoor use. If your design style leans more towards boho-chic, this is a perfect outdoor tile option to complement your backyard oasis.
Bring Your Modern Pool Tile Design Ideas to Life with Tile Club
At Tile Club, we take pride in offering today's best selection of home, pool, and outdoor tile to bring your residential or commercial spaces to life. Browse and shop Tile Club today to start planning your modern pool tile design, or reach out to Tile Club's dedicated and knowledgeable customer service team to learn more about choosing the best pool tile to turn your backyard design dreams into reality. Interested in finding more tile inspiration for other parts of your home or commercial space? The Tile Club Blog is chock-full of gorgeous design options for your next renovation project!