Coverings, the largest and most important premier trade event of the year for the tile and stone industry in North America, was held from April 5 to 8, in Las Vegas, Nevada, where nearly 18,000 attendees convened at the Las Vegas Convention Center.
The annual event introduces hundreds of exhibitors and industry thought-leaders while attracting thousands of attendees charged and enthused about discovering the latest in tile and flooring trends. 
750 of the world's leading tile associations and product manufacturers representing more than 30 countries showcased spectacular and newest products of 2022 for every market segment in the tile and stone industry. As the immersive product displays featured at Coverings offer insights into the year's newest tile trends, we are always eager to discover what's in store and upgrade our industry knowledge.
A Product-Infused Experience for 2022
The four-day event extended across three primary pavilions: Ceramics of Italy, Tile Council of North America, and Tile of Spain—highlighting a dazzling plethora of expansive, diverse, and innovative product showcases.
Oversized patterns are a new big look this year and our White Striped Diamonds Marble Mosaic Tile is a statement-making choice and a brilliant way to refresh kitchens, bathrooms, living rooms, and hallways.
These along with numerous displays from Brazil, China, India, Turkey, Portugal, and other European countries allowed show goers to observe new and highly interactive showcases of ground-breaking tile installation techniques for residential, commercial, and hospitality use.
This year's new addition, "The Experience Stage", hosted within the Coverings Lounge, explored the event's core focuses of the health benefits and sustainable properties of tile within three main pillars: timeless luxury, health and wellness, and outdoor living.
The Italian Ceramic Pavilion
Dedicated to innovative product design, The Italian Ceramic Pavilion is a source of inspiration for anyone seeking incredible insider knowledge on the latest novelties in ceramic tile technology. 
Taking place in Central Hall, The Ceramics of Italy Pavilion hosted around 70 tile manufacturers (more than 100 brands), showcasing their newest collections and providing visitors with invaluable information on the history and ingenious use of Italian ceramic tiles, as well as insights on the latest cutting-edge designs and innovative applications. 
The Tile of Spain Pavilion
The Spanish Pavilion represented more than 70 Spanish ceramic tile manufacturers. At the center of it all were educational seminars and inspirational presentations by experts from Spain—highlighting the latest novelties, emerging tile trends, as well as advanced technical and aesthetic solutions that are conspiring to cater to today's design needs. 
The Tile of Spain Pavilion visitors can enjoy educational seminars, interviews, presentations, and a range of new collections from brands like Baldocer, Adex, Equipe, Peronda, Nanda Tiles, and more.  
This year's Spanish Pavilion's innovative offerings include:
Sustainability in Ceramics

which delved more into holistic views of sustainability, health, and safety. 

Showstoppers

with Ryan Fasan, Ceramic Tile Specialist and Tile of Spain Consultant, sharing great insights about new products and industry advancements. 

A&D/Contractors Tour

explored current trends that offer an interesting design language through color, pattern, format, and performance characteristics. 

Ceramic Trends 2022

with Ryan Fasan's Trend Talk, covered the latest ceramic design trends of 2022.
Ahead, we discuss Coverings 2022 tile trends, which were well represented in near-countless examples throughout the duration of the event:
Baroque Tile Trend
With an array of choices available, this tile trend offers a sense of movement and grandeur that the Baroque aesthetic is known for. Having influenced 17th-century paintings, sculptural creation, and architecture throughout Europe with highly detailed and ornate magnificence, Baroque tile design uncovers the same principles, especially when made from floor-to-ceiling porcelain slabs.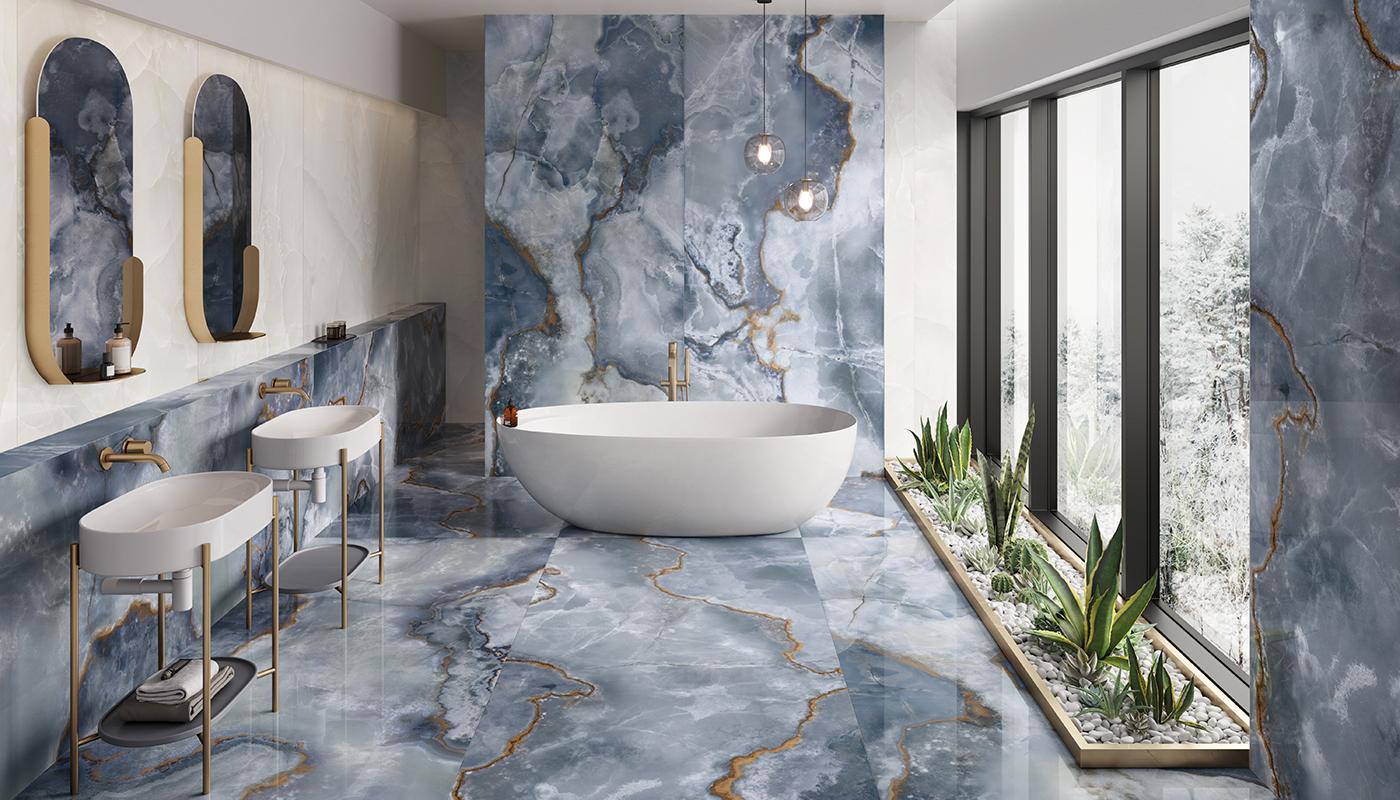 Emilceramica's Tele di Marmo Onyx beautifully highlights the baroque trend — Ceramics of Italy
Many tile manufacturers are drawn to dramatic marble impressions with bold colors and abundant veining, while others produce opulent tiles with gold details and reflective surfaces that offer limitless opportunities to create visual allure. Both are entrancing and lively, lending a feeling of old-world charm with a modern twist.
Coverings 2022 was filled with an outstanding variety of new and exotic marbles offering an explosive decorative impact on a much grander scale.
The Crossville Inc booth showcased their most luxurious and oh-so-chic American-made surface solutions for both indoors and outdoors. Seen here are the Cava Noir Desir and Owen Stone.
Bas Relief Tile Trend
Reinstating high-quality artisanal craftsmanship, the bas relief tile trend highlights desirable 3D effects—from artisan tiles with rounded edges that simulate ancient stone to low relief that adds depth and dimension.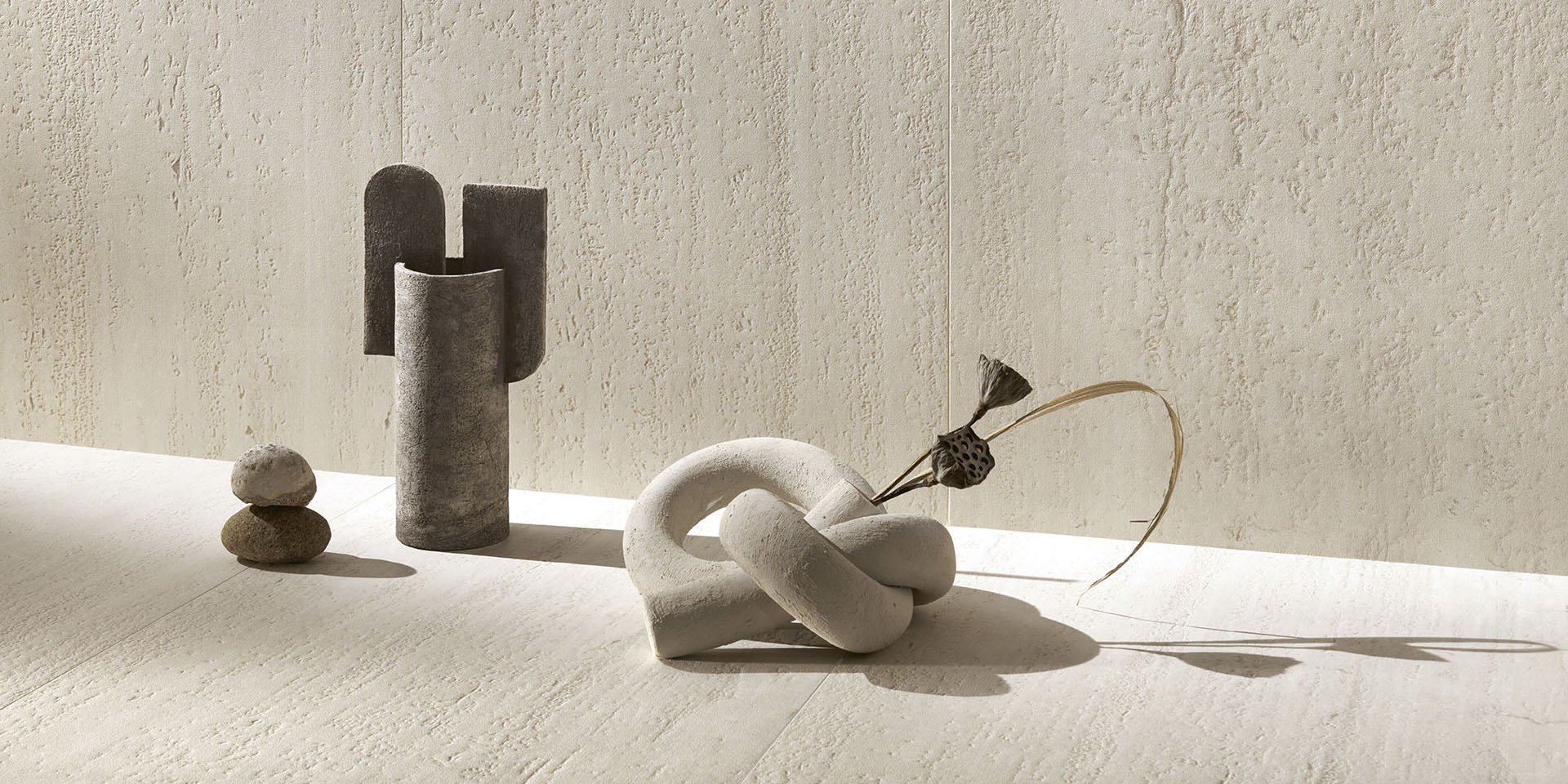 Del Conca's Dinamika Travertino explores dimension through tile — Ceramics of Italy
Thanks to the latest advancements in innovative technology, manufacturers have invested in creating three-dimensional ceramic and porcelain tiles with more texture options and more precise colors than ever before. 
Influenced by traces of the past, artisan tile design adds a sense of variation and depth. The theme of the bas relief comes to life with our Varana Blanco Décor Tile, which easily becomes the focal point of any space craving a visually arresting style.
Ragno Ceramiche Gleeze tile encapsulates the bas relief trend — Ceramics of Italy
Captivating Colors Tile Trend
This trend offers endless design possibilities with three colorful tile palettes:  
The Argile collection can be seen at the Equipe install, showcasing the Argile Khaki 10x10cm, Argile Khaki 6x24,6cm, Argile Ice 10x10cm, and Argile Ice 6x24,6cm. Crafted from hand-worked clay, the stunning collection offers a wide color range of vivid, earthy tones ideal for infusing an organic touch with a refined, modern twist into any space.
Celebrating Ceramics in Color.

Ceramic tiles have long symbolized an effortless combination of art and building throughout history. Weathered edges, classic glazing processes, and traditional patterns are all part of this trend, which pays homage to the material's rich and artisanal heritage.
Heavily highlighted at Coverings 2022, tiles in warm, nurturing colors and earthy textures are a new big look set to take the design world by storm. Our La Riviera Quetzal Ceramic Tile hit just the right note between rugged and refined. 
Soft color tones like greens with twilight undertones, peachy-and chestnut-brown terracotta shades, creamy tans, sandy beiges, and coastal blue frequently take center stage in the celebration of ceramic origins.
Terralma 1, Portobello America's captivating vibrant nature-inspired jewel tones — Tile Council of North America
Earthy Jewel Tones.

The world is ready to welcome more natural colors into the home post-pandemic quarantine. In 2022, jewel tones inspired by nature, such as amber, brick, emerald, and aquamarine will be in vogue in both residential and commercial applications. The rich clay tones and leafy greens are fantastic for creating casual, organic designs and foster our innate need to connect to nature and the greater outdoors.
Gatsby, Gigacer features elegant pastels with endless stylistic possibilities — Ceramics of Italy
Pastels.

Ceramic manufacturers are introducing pastel colors like sage, mint, rose, and sky blue into their colorful tile collections, which offer a relaxing and organic touch to rooms and are in line with a ubiquitous feeling of romanticism. This colorful tile trend also fits with industry-wide trends like Colors of the Year.
Thanks to its laid-back pastel pink hue, our La Riviera Rose Pink Ceramic Square Tile is super-easy to pair with wood tones and accent pieces such as cabinetry in contrasting shades.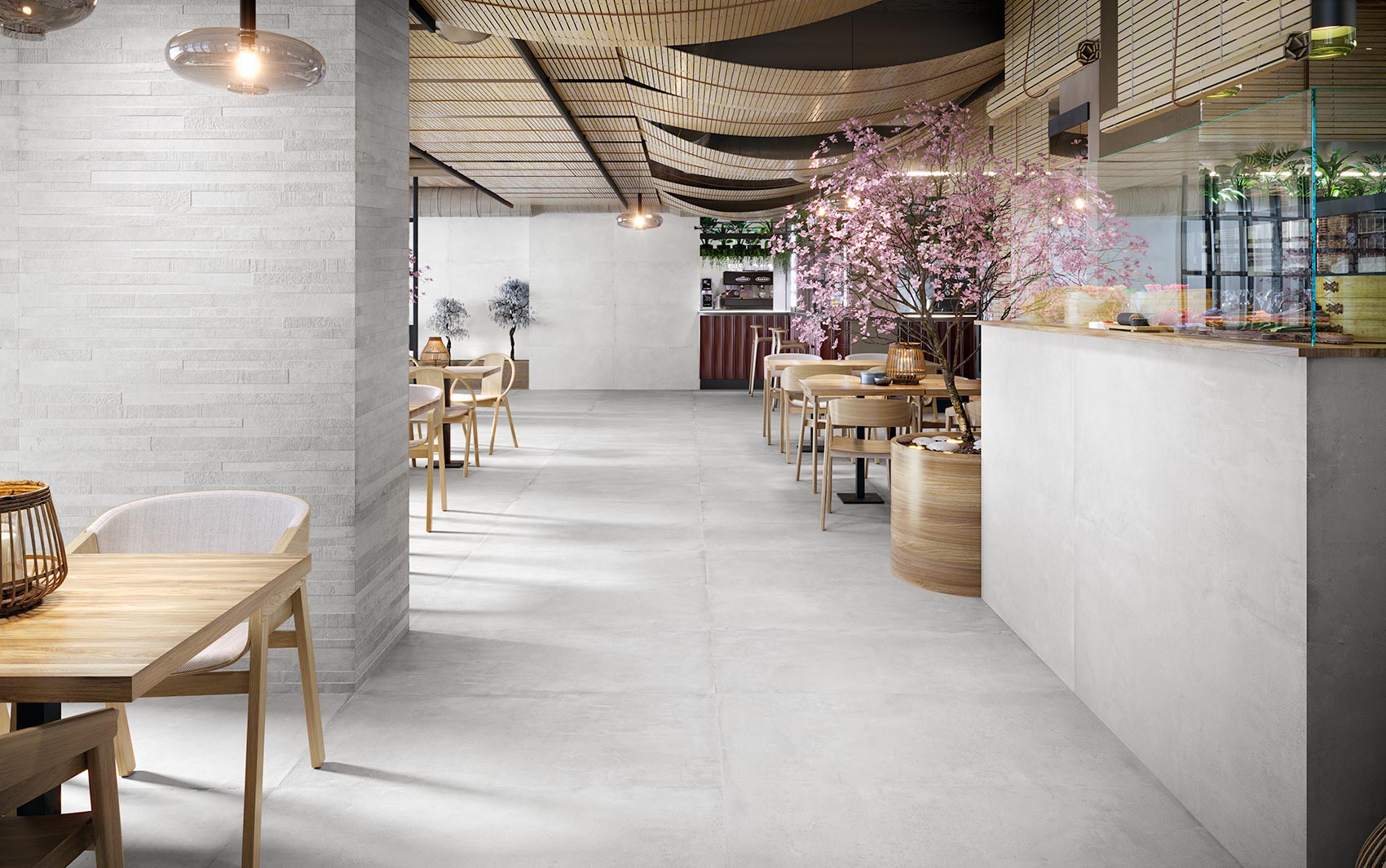 Itt Ceramic's Tokio collection adds a simplistic yet elegant touch to simple, clean interiors — Tile of Spain
A more delicate approach will coexist with handcrafted textures and organic materials in this new era of ceramic design. Balance will be achieved by smooth compositions, subtle textures, and simplistic patterns. By exhibiting odd pairings throughout designs and the harmony that may be discovered, the seeming discord in style aims to highlight and complement contrasts.
Golden Arches Tile Trend
Manhattan Road, Argenta highlights curves and arches — Tile of Spain
Art deco tile design elements such as curvaceous arches and softly rounded rectangles find a home in the design language of 2022. These curves add a feeling of playfulness and adaptability to even the most stark and lavish interior settings while maintaining the straight gridlines of a tile composite.
A nod to organic shapes, our Roman Flower Wooden Beige and Carrara Marble Mosaic Tile combine chic and artistic pattern play. We're on board with the playful use of attention-capturing curves to emphasize an old-fashioned art deco feel while bringing everything together in a new and dynamic way. 
Murals Tile Trend
This year's Coverings exhibition introduces guests to the many ways to confidently explore large-scale, bold colors and patterns, and unique textures. No longer reserved for main rooms, new resistant material makes oversized mural tiles perfectly suited for practical spaces like the bathroom. The striking use of pattern and color makes it easy to bring this vivid tile trend into our homes and add an extra layer to its overall design. 
Ceramic tile is becoming a more appealing alternative to wallpaper, thanks to its extra-large sizes and ultra-thin profiles. Many manufacturers have extensive portfolios of patterns to select from, including large florals and historical patterns such as toile, chinoiserie, and damask, exhibiting designers' artistic ability as well as the long-lasting benefits of porcelain.
Mural tiles are a fantastic way to craft a one-of-a-kind room design that's dramatic and eye-catching, which makes them a permanent statement in any space. They become part of the room's aesthetic and can be laid on large otherwise blank walls, to showcase the room's architectural feature, or create a focal point that instantly draws the eye. 
Whether used to accentuate the fireplace surround, bring extra dimension to the entrance hall, create a distinctive kitchen backsplash, or add visual interest to shower walls, the power of mural tiles is unrivaled. Above, the Allison Design Studio's artistic booth highlighted the power of bold color and flamboyant patterns in glass mosaic creation. 
Today's homeowners desire something that makes a unique design statement without feeling gaudy or excessive. The Kasai Carta Sakura 10x60" Rectified Porcelain Tile will make practical spaces like the bathroom more eye-catching.
Plaster Look Tile Trend
This is a trend most homeowners looking to create a highly clean minimalist look with very few grout lines will love. The visual appeal of the plaster look is in its ability to add richness and an enveloping feel with warm tones or cool things down with a cement tone, resulting in a more industrial finish with a touch of curiosity.
MileStone's Plaster 2.0 collection perfectly translates the plaster look trend — Tile Council of North America
Often remembered for their rustic, retro charm, textured wall treatments are making a big comeback thanks to the current trend that puts great emphasis on nature and earthy features. The textured appearance and delicate color variations that mimic the artistic layering of the plaster look are particularly notable. Plaster look is a stylistic choice that adds a characterful touch and an old-world quality to wall surfaces, causing your eye to move about the space with intrigue.
Polarized Marble Tile Trend
While white marble tile remains the most sought-after surface finish in just about every space and application, this captivating trend showcases marble like you've never seen it before—and it all comes down to dramatic, abundant veining that branches out in every direction and covers the majority of the tile surface.
Ravello, Ecoceramic delivers a polarized marble tile look that's great for adding a sense of depth and dimension — Tile of Spain
The fierce stone appearance of the past has given way to a more sophisticated and refined marbleized aesthetic. This innovative and distinctive approach preserves the organic variation of veined natural stone while creating a more homogenic overall look that maintains a coherent texture, finish, and effect. 
Pettrus, a Brazil-based stone quarry company, showcased some of their super exotic stones such as the Botanic Wave at Coverings 2022.
With so many enticing veining options available on the market, it's best to choose a marble tile design that perfectly suits your space. For instance, if you looking to create a striking floor-to-ceiling backdrop that steals the show, marble tile with angular veining tends to be bolder and higher-contrast.
Shapes Scaled Tile Trend
As much as we love the oversized hexagons that were all the rage last year, 2022 brings a new wave of other oversized geometric tiles taking surfaces by storm—with options including triangles, diamonds, and parallelograms, along with pocket-sized hexagons and polygons.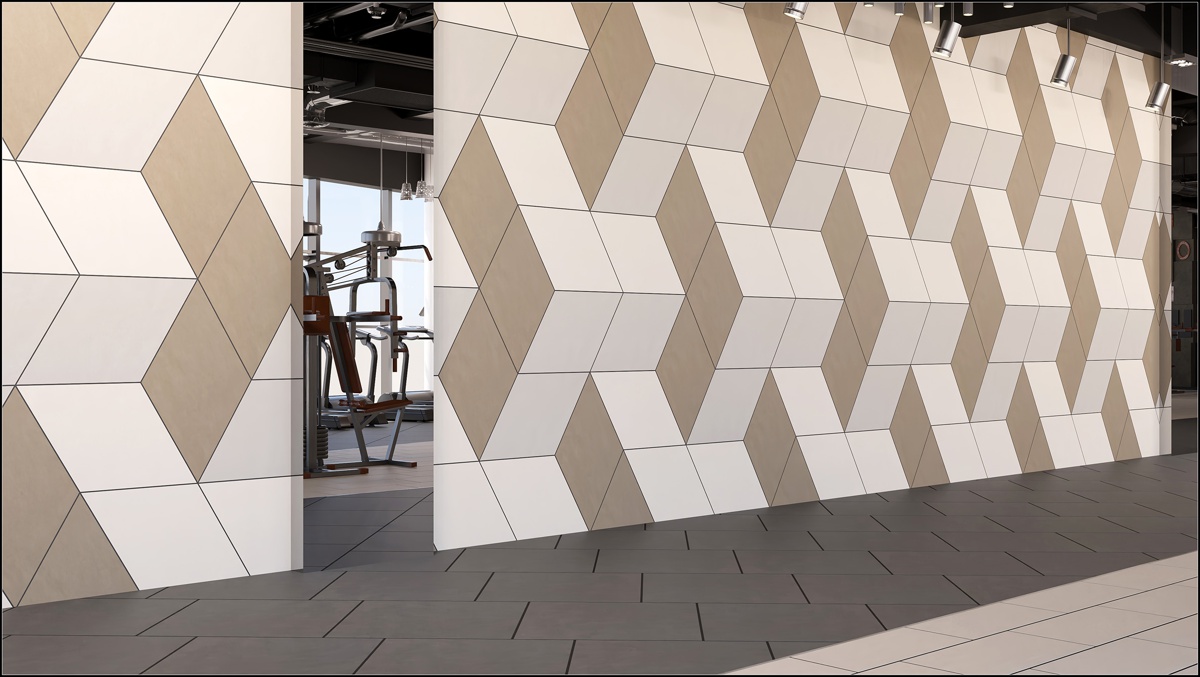 Serendipity, Florida Tile spotlights oversized graphics that offer a contemporary twist on a classic design element — Tile Council of North America
These forms of varying scales, arranged in striking geometric patterns, introduce a refreshingly contemporary twist to classical interior settings. Whether in subdued tones or bold contrasting colors, this new style of geometric tiles gives homeowners the chance to tap into their creative side and explore the many different ways they can transform lifeless interiors with unspoken sophistication. 
Our Esagona Intarcio Silver Wood Look Porcelain Tile not only lends the timeless charm of weathered wood but its hexagon pattern delivers undeniable panache that's sure to accentuate the look and feel of any space. 
Warm Stones Tile Trend
Natural allure and texture can be added to any setting using stone looks. With the general color palettes embracing warm tones and earthy textures in recent years, it only makes sense for stone look tiles to follow suit. New stone look products showcased at Coverings 2022 are guaranteed to satisfy different tastes and demands.
Inspired by the charm of nature, Turkish Stones embrace a collection of neutral-toned tiles in mosaic and large format. Thanks to sophisticated tile technologies, natural stone looks deliver unsurpassable performance and an aesthetic versatility that offers visual continuity between the indoor and outdoor. 
This earth-inspired aesthetic injects understated flair into both contemporary and classical bathroom settings—and when paired with equally warm neutrals, stone effect tile's color movement, distinguishing lines, and varied finishes inspire a bold, one-of-a-kind design that exudes a warm and fresh ambiance.
Habitación, Lamosa is exactly what comes to mind when we think of warm tones and natural textures — Tile Council of North America
Who doesn't love the authentic and laid-back vibe of stone-look porcelain bathroom tile? We love how the Varana Morengo Stone Look Black Porcelain Tile combines aesthetic brilliance with high performance. Whether used as flooring or a backsplash, its earthy gray tone and organic texture effortlessly enrich any space it is laid.
Coverings 2022 tile trends provide a great starting point to breathe new life into interior spaces with new and intriguing shapes, colors, and patterns. Tile Club offers a wide variety of tiles perfect for creating any desired aesthetic while ensuring your home never goes out of style.