Make your basement hangout space a whole lot brighter by incorporating natural light and neutral materials, like a Tribeca Blanco Whitewashed Wood-Look Tile floor from Tile Club.
A basement remodel is the perfect opportunity to create a one-of-a-kind space that serves you and your family for years to come. Whether your finished basement will be the designated kids' space, man cave, family room, or serve multiple needs, one major aspect not to be overlooked during the design process is the flooring.
Not only should your basement flooring look great and feel good underfoot, but it should also clean up easily and withstand whatever life throws your way, including common mishaps like water leaks, flooding, and other changing variables like cold, moisture, humidity, and heat. You'll want a flooring option that won't contribute to mold or that musty smell seared into your brain from your grandparent's house or swell, warp, or split when exposed to moisture. 
So, what flooring can pull off all of these feats? Tile can, of course! 
Read on to learn what kind of floor tile fair best in a basement and to browse our top basement tile floor ideas and wall ideas to make your space as functional as it is beautiful.
Give your floors a fun and functional facelift with a wood-look tile featuring a unique shape, like this Esagona Intarcio Nut Wood Look Porcelain Tile.
What Kind of Tile is Best in a Basement?
Your list of basement tile floor ideas needs to be about more than just looks. Your tile should be attractive, of course, but it must also be able to withstand the wear and tear of daily life, including water, humidity, cold, moisture, pets, and foot traffic. For all of these reasons and more, our experts recommend porcelain tile for basement floors.
Porcelain tile is praised for its durability and resistance to scratches, stains, cracks, chips, water, and moisture. Because porcelain is a clay tile fired at extremely high temperatures, it offers unprecedented strength and longevity and won't swell when it's humid or shrink (or crack) when it's cold. Can your wood floors say that?
In terms of looks, porcelain tile can be manipulated to look like other popular tile materials like marble or flooring materials like wood, illustrated by our gorgeous collection of wood-look tiles. What's more, porcelain tile boasts one of the lowest costs per square foot, making it the Crème de la crèm for creating a stunning and long-lasting basement tile floor friendly enough for most budgets.
Love the look of wood flooring, but don't want to risk it being damaged by cold, moisture, and humidity? Add a wood-look porcelain tile, like this Kasai Fumo Rectified Porcelain Tile to your basement flooring idea list!
Ceramic tile is another hard-wearing tile even more budget-friendly than its porcelain cousin. Ceramic tile comes in countless designs to fit various styles and can be purchased in non-porous, glazed finishes that resist water exceptionally well. We love ceramic for walls like entryways and foyers, bathrooms, and backsplashes!
Paired with a dark wood-look porcelain floor, this La Riviera Lavanda Blue Ceramic Tile basement design is a welcome addition to your new and improved hangout area.
If you need more basement tile ideas for walls, glass tile is a versatile option to consider. Both water and frost-resistant glass tile make excellent backsplash tile for basement bars, wine cellars, accent walls, game room walls, and more. Glass tile won't collect mold, stains, or funky smells that sometimes creep into basement settings. And since glass tile is often reflective, it can help brighten up your space or add some much-needed dimension or texture!
Dress your basement bar or wine cellar walls with a Matte Silver Hexagon Glass Mosaic Tile backsplash from Tile Club!
PRO TIP: Before choosing a tile, you should always verify that your tile choice is approved for your intended area of use. This information can be found on all tile product pages. If you are still unsure if your desired tile will work for your installation area, please contact our tile experts.
Basement Tile & Radiant Heat: A Match Made in Heaven
If you live in a climate where the idea of walking on your cold basement floor sends shivers up your spine, you may also consider elevating the comfort and functionality of your basement tile by installing radiant heat. 
Radiant heat flooring systems are energy-efficient options to make your tile floors more enjoyable when cold climates steal any sign of warmth. Plus, tile is well suited for radiant heat, and porcelain tile is one basement tile floor idea for radiant heat flooring systems. Warm toes on a cold winter's morning? Sign us up!
Design a Basement That Serves
You
Basements can be so much more than spider-laden spaces to store your holiday decor. In fact, your basement is a blank canvas ideal for creating a multi-purpose space to serve your family in a variety of ways.
For instance, you could install or refinish a bathroom, home office, or add a mudroom and laundry room (great for keeping dirty feet off of your kitchen tile floors!). You could also turn your basement into the ultimate hangout space for friends and family, complete with a wine cellar, bar, or guest room. If your budget and square footage allow, consider adding a personal movie theater or even a pool or steam room with tiled walls and floors that hold up better to mold, mildew, water, and damage your plastered walls and hardwood floors can't fight.
Read on to see what other basement tile ideas might work for your next remodel!
Basement Tile Ideas We Love
For a Bathroom
This gorgeous basement bathroom reveal by House of Jade Interiors features a luxe white textured La Riviera Blanc Ceramic Subway Tile bathroom and shower wall that pairs perfectly with a classic William Morris wallpaper and French antique-inspired hardware.
This stunning bathroom remodel seen on HGTV's Rock The Block features a lovely combination of Tile Club's Mallorca Black Ceramic Subway Tile on the walls and Spiga Olson Blanco Wood-Look Chevron Porcelain Tile floors fit for a modern basement bathroom for family and guests alike.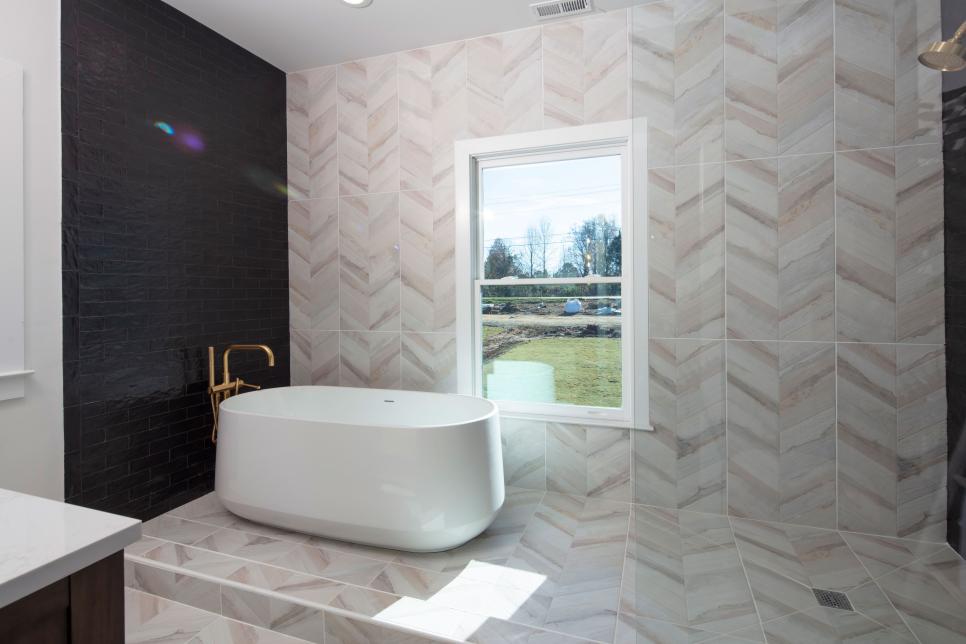 Here's another look at the Rock The Block bathroom remodel featuring Tile Club's Spiga Olson Blanco Wood-Look Chevron Porcelain Tile and  Mallorca Black Ceramic Subway Tile.
Nothing turns a dark and scary basement around quite like a marble-look porcelain field tile, and this bathroom remodel featuring Tile Club's Emporio Matte Calacatta Marble Porcelain Tile proves it.
If you're looking for basement floor ideas that the kids will love for their new and improved hangout space, our Melange Black Porcelain TIle is one for the books. Install it on the basement and shower floors, walls, and even in your new steam room without worry! This stunning tile is also available in natural and black shades.
Tile Club's Melange Blue Porcelain Tile is seen again here in a fun and modern entryway design. In fact, many of the porcelain tiles you'll find here make gorgeous entryway tile!
For Entertaining

Wood-look porcelain tile offers all of the visual benefits of a wood floor without fearing what basement life will do to it over time. Choose from several color and style variations to find the best fit for your space, like this Tribeca Gris Gray Wood-Look Tile floor!
Whether you're designing your basement for the kids or reserving it for an at-home date night, your list of basement floor ideas should accommodate everyone in your home. One neutral option we love for the whole family is this wood-look porcelain tile.
Tile Club's Desert Sand Terrazzo Hex Porcelain Tile is a bright and fun way to dress up your basement bar or modern hangout space. In fact, this tile is approved for indoor and outdoor use, which means you can carry your walk-out basement flooring idea out onto the patio!
Tile Club's Tango Grey Wave 3D Porcelain Tile is a gorgeous basement tile idea for walls in hangout and theater rooms, as pictured above!
We love a large format Porcelain tile like this Ionic Copper a the wall, and we think it's also a perfect basement tile idea to consider if you want to achieve an upscale look. Paired with an inlaid fireplace and radiant heat flooring, you'll have a basement space fit for a King!
Your basement is the perfect spot for your dream bar or wine cellar, so why not add a gorgeous basement tile idea to the mix, too? Make your space edgy and fun with this Stormy Sky Terrazzo Hex Porcelain Tile, approved for use on walls and floors!
For Guest Suites

If your list of favorite basement flooring ideas includes a dark and dramatic tile, this Slatestone Black Porcelain Tile is the perfect field tile to consider.
Create a guest space company will love to cozy up to with a gorgeous glass accent wall design, like the one pictured here, using Tile Club's White Deco Hex Glass Mosaic Tile.
Shop Tile Club Today!
With a bit of imagination and the right materials, you can design the basement of your dreams that will withstand years of love and use. At Tile Club, we make it easy to find the porcelain and ceramic tile basement designs that will take your remodel to new levels of beauty and functionality. Shop Tile Club today to start planning your list of favorite basement wall and basement floor ideas, or check out the Tile Club blog to find more basement flooring ideas and tile inspiration for all corners of your home!