3" x 12" Blue Gemstone Agate Glass Tile
$5.99
per Sample. Free Shipping!
Don't have time to wait for samples?
Exterior:

Yes

Interior Wall:

Yes

Residential Floor:

Yes

High Traffic Floor:

Yes

Shower Wall:

Yes
Shower Floor:

No

Steam Shower:

No

Pool/Fountain:

No
More Details ▽
How many tiles do I need?
Description
Reviews
Q&A
Installation
Get creative with your decor by designing with 3" x 12" Blue Gemstone Agate Glass Tile! The inkjet printed blue gem and agate crystal pattern on the back of this beautiful glass tile adds a unique design anywhere you choose to install it - the glass subway tiles can be utilized on indoor and exterior walls, a home floor, in the shower - you name it! This beautiful pattern makes a great choice for a creative and stunning bathroom wall or tub surround where the polished glass and crystal pattern can catch the light! The glossy finish is ideal for a beautifully designed kitchen backsplash, as you can just wipe to clean the glass! The upside of a crystal gemstone patterned tile is that it is much more durable than semi-precious stone, allowing this lovely detail to grace your home for years to come!
Sold by: box

Sheet Size: 3" x 12"

Material: Glass

Color: Blue

Finish: Glossy

Packing info:

Pcs per Box: 20
Sq. Ft. per Box: 5.00
Weight Box: 20.50

Area of use:

Wall: Indoor

, Outdoor

Floor: Residential
Shower Wall: Yes
Shower Floor: No
Steam room: No
Pool: No
Customer Reviews
Write a Review
Ask a Question
06/03/2021
Tina H.

United States
The tile is beautiful and not one chip from shipping across country!!
Great! Loved how fast it arrived and in great shape! Beautiful tile!!
05/27/2021
Anonymous

United States
Not What You See
I can only says that this product looks incredible!! Much better than in the picture on the site. I purchased samples only,, now figuring out how I want to lay things out in my kitchen and bath.
04/27/2021
Benjamin W.

United States
Lovely gemstone glass tiles
I will use these blue Agate glass tiles for my backsplash in the downstairs bathroom. I can wait to see the finished product. Overall, I am pleased with the product.
04/27/2021
Oli

United States
Best Gemstone glass tiles
These tiles look exceedingly beautiful when installed. They sparkle like gemstones. I used them for a kitchen backsplash. I love the new look they have given my home.
02/10/2021
Anonymous

United States
Love it!!!
We really enjoyed working with tile club and the tile. Everything was delivered right on schedule, packed nicely and was fantastic! Wish we were able to post a picture of how great everything came out!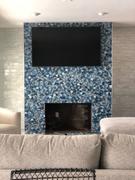 We absolutely LOVE your fireplace! Everyone here at Tile Club was blown away by how awesome it turned out. Thank you so much for sharing!
What\'s this made of?

Our Blue Gemstone Agate Glass Tile is a 3" x 12" clear glass subway tile with an inkjet printed geode slice pattern on the backing! The surface is glossy and durable!