3" x 12" Smoky Quartz Geode Glass Tile
$5.99
per Sample. Free Shipping!
Don't have time to wait for samples?
Exterior:

Yes

Interior Wall:

Yes

Residential Floor:

Yes

High Traffic Floor:

Yes

Shower Wall:

Yes
Shower Floor:

No

Steam Shower:

No

Pool/Fountain:

No
More Details ▽
How many tiles do I need?
Description
Reviews
Q&A
Installation
The details in this 3" x 12" Smoky Quartz Geode Glass Tile are sure to enchant and amaze wherever you install them in your home! The stunning pattern inkjet printed on the back of these polished glass tiles gives the look of blue agate and quartz geode gemstone slices with all the durability and long term wear of glass tiles! The polished finish adds a beautiful accent that will catch the light in any room, creating a beautiful atmosphere that can be used as an accent to add an eclectic detail to a unique bathroom design or an eye-catching kitchen backsplash! Use this beautiful design to enhance a wall of more classic tiles to add a stylish subway tile detail, or create a stunning statement in your home with the quartz geode glass accents and midnight blue crystal color. 
With a polished glass finish, these stunning tiles are more durable and offer a longer-wear option than actual geode slides, with a durable glass material and finish that creates this stunning detail for any room in your home!
Sold by: box

Sheet Size: 3" x 12"

Material: Glass

Color: Gray, White

Finish: Glossy

Packing info:

Pcs per Box: 20
Sq. Ft. per Box: 5.00
Weight Box: 20.50

Area of use:

Wall: Indoor

, Outdoor

Floor: Residential
Shower Wall: Yes
Shower Floor: No
Steam room: No
Pool: No
Customer Reviews
Write a Review
Ask a Question
06/04/2021
Eva M.

United States
Good subway tiles
I used these tiles for my subway. They are absolutely gorgeous. My husband has now decided to use them on our RV.
04/27/2021
Liam K.

United States
Lovely midnight blue and quartz Geode glass
We used these tiles on my sister's kitchen. I love how they have transformed the space, making the backsplash colorful. They are of good quality and the price is great. We will be buying more for the bathroom vanity.
04/27/2021
Molly

United States
Great Midnight Blue tiles
These are great and lovely tiles. I used them on the walls when doing a bathroom remodel. They came out beautifully. They are worth every coin. I'm very happy with my purchase.
01/06/2021
Bruce R.

United States
Nothing like the picture!
Colors are totally different than pictured. Called customer service No help. Said I should have ordered a sample. They charge 15% restocking fee and I pay shipping- which would cost $250 for 5 small boxes of backsplash.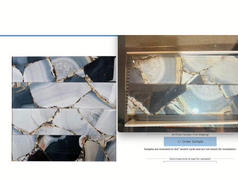 Hello, thank you for your review. We are sorry to hear that you are unhappy with your purchase. Our return policy is clearly posted and we offer samples and lot photos prior to making a purchase. We do not see any discrepancy between the photo you provided and the pictures on our website. If you have any further questions, please let us know. You can view our return policy here: https://www.tileclub.com/pages/return-policy Best Regards, Samantha, Tile Club Support
10/23/2020
Heidi H.

United States
Sorry, didn't like it
I bought a sample because I wanted to see one individually. The one that came had barely even any of the actual pattern I was looking for. I was also surprised it looked like just a picture of stones glued onto a glass tile. I'm not sure what I was expecting exactly but this wasn't it. The online ordering was easy and I was happy with that. The shipping was wonderful. I was happy with the timing and it made me excited for placing a large order but when I opened the box and saw the tile I was very disappointed. I'll look again to see if you have something else that I like.
We are sorry to hear about your experience. We hope you will find something that will suit your project :-)
Can I use this on a shower floor?

This 3x12 glass geode mosaic tile is not approved for shower floors.