*Please note that tile colors may vary from images due to monitor settings
Antique Circles Etched Marble Tile
PRODUCT DETAILS
Sheet

Size: 12x12"

Residential Floor:

Yes

High Traffic Floor:

Yes
Exterior:

No

Interior Wall:

Yes

Pool/Fountain:

No
Shower Wall:

Yes

Shower Floor:

No

Steam Shower:

No
DESCRIPTION
REVIEWS
PRODUCT Q&A
The unique look of this Antique marble tile offers wonderful design options for your home if you adore simple geometrical forms and neutral colors. Etched marble patterns create a focal interest and make this product a gem of any interior. The trendy Grey tile color sets up a calm soothing feel and matches any bright accent. This high-quality natural marble tile is a popular choice for wall designs thanks to the detail that it can add to your room! You can apply it to general walls, shower walls, or create a decorative feature wall. It is a great sturdy floor tile that can be used in both low and high traffic areas. Add a stylish genuine marble bathroom backsplash, grace your kitchen, hallway, dining room, living room, or other indoor space. 
The etched circular pattern evokes a mandala design with subtle color variation, creating a beautiful option to accent modern bohemian home design or pair with neutral decor for a classic home accent with a unique and stylish touch!
*Naturally occurring veins and variations are found in all stone tiles, including Ashen White marble, and can result in differences of appearance between photos and products. If you would like to gauge variation between tiles prior to ordering, please 'Request Current Lot Pictures' above to see the material prior to shipment.
Sold by: piece

Sheet Size: 12" x 12"

Material: Ashen White Marble

Color: Gray

Finish: Polished 

 

Packing info:

Pcs per Box: 5
Sq. Ft. per Box: 5.00

Sheet or SQ. FT weight:

 5.5 lb

Area of use:

Wall: Indoor
Floor: Residential, Commercial
Shower Wall: Yes
Shower Floor: No
Steam room: No
Pool: No

 

 

 
Prop 65 Warning for CA residents.
Customer Reviews
Write a Review
Ask a Question
08/04/2022
Martin

United States
High-quality tile
I love this tile. I originally installed it in the living room of one of my rental homes a year ago and I love how it is still holding up. It is so sturdy despite the room having high foot traffic compared to other rooms.
07/02/2022
Leigh A.

United States
Beautidul and Unique
I am redoing my foyer and it will be the perfect compliment when the work is done.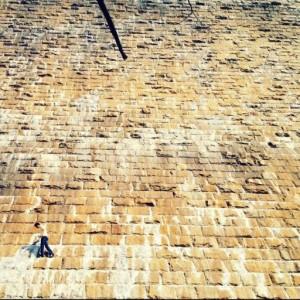 GW
03/07/2022
George W.

United States
Very satisfied with my purchase
I compared so many different types of tiles and this is the one I really liked. It's also amazing how affordable it was compared to other tiles. Decided to redo my garage with it and the results are amazing!
01/18/2022
Obadiah

United States
Great design and pattern
I chose this tile because it has a unique pattern. However, there was a delay in shipping my order, since Fedex shipped to the wrong address. But overall, I'm content with my purchase.
09/18/2021
Mark

United States
Works great for rooftop bar
I'm a commercial contractor. I was hired to install these tiles in a rooftop bar. I loved their look and the fact that they made my project look exemplary. I have ordered mine and will be looking to use them in my home.
I am trying to determine how much to buy if i am interested in this tile...I see you don't allow for calculation of square feet. Is one piece a sheet or is it one tile? I see they are packed 5 ft per box but this is not one piece is it? I am looking at 196 sq feet. How may boxes should i order?

Hello,
Thank you for your question. The sheet size is 12x12 inches, so it's basically a square foot. You will need 196 sheets for your project. Please let us know if you have any other questions. We are here to help. 
Have a great day,
Team Tile Club

I see that some of the other etched marble says it can be used in a shower area, however, this one says it can't. Can you please confirm that this can't be used for a shower floor?

Thank you for your inquiry! You are correct - this tile is not recommended for installation on a shower floor. White marble contains iron deposits that can discolor the stone surface if exposed to standing water for long periods of time. Shower floors are especially prone to this, as water puddles there and does not tend to dry fully. While tis process is a natural characteristic of white marble, we know that it can reduce long-term enjoyment in your beautiful white tiles, and so we don't recommend it for areas that are exposed to standing water. It's best used on shower walls where water will naturally run off although we do recommend wiping them dry after use. 

Other colors of marble have different compositions and less likely to discolor from water exposure, making them a better choice for a shower floor.

Can this tile be used for a kitchen backsplash?

Yes! You can use our Antique Circles Etched marble tile as a backsplash for your kitchen, bathroom, or other space. We recommend periodically sealing marble tiles used behind cooktops and sinks as they can be splashed with food or water.