Eclectic Slate Square Mosaic Tile
PRODUCT DETAILS
Sheet

Size: 11.7x11.7"

Residential Floor:

Yes

High Traffic Floor:

No
Exterior:

No

Interior Wall:

Yes

Pool/Fountain:

No
Shower Wall:

Yes

Shower Floor:

Yes

Steam Shower:

No
How many tiles do I need?
DESCRIPTION
REVIEWS
PRODUCT Q&A
This earth tone tile combines glass, resin, and ceramic squares for a natural mosaic design! Add a natural touch to your kitchen or bathroom design with our Eclectic Slate Square Mosaic Tile for your backsplash or shower!
Sold by: sheet

Sheet Size: 11.7" x 11.7"

Chip Size: 1x1"

Thickness: 5/16"

Material: Glass, Resin, Ceramics

Color: Beige, Brown

Finish: Polished 

Packing info:

Pcs per Box: 5
Sq. Ft. per Box: 4.75

Sheet or SQ. FT weight:

 3.2 lb

Area of use:

Wall: Indoor
Floor: Residential
Shower Wall: Yes
Shower Floor: Yes
Steam room: No
Pool: No
Eclectic Slate Square Mosaic Tile
Prop 65 Warning for CA residents.
Customer Reviews
Write a Review
Ask a Question
01/29/2022
Sam

United States
Installed in my bathtub surround
This tile is really gorgeous in my bathtub surround and bathroom walls. It created a soothing tone in the bathroom which really make me feel calm when soaking in the tub. Highly recommend this tile.
08/24/2021
Dennis C.

United States
Excellent traditional look; great service!
This mosaic tile was an excellent choice replacing modern glass tile as we transformed our bathrooms to a more traditional look. A few of the tiles delaminated as they were installed and the backing could have been a little stiffer to aid in cutting. Tile Club provided excellent service and quick delivery!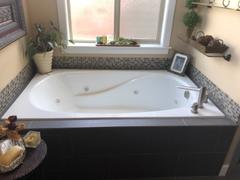 10/21/2020
Bianca

United States
Pretty shower floor tile
I got a new tile flooring in my bathroom and shower and I'm very happy with it. It wasn't a huge project, so my order was delivered and installed really fast.
Can this tile withstand temperatures up to 180 degrees for long periods of time?

We'd love to know more about how you're planning to use this tile with exposure to sustained high-degree heat!

It is approved for backsplash use behind a gas or electric range - make sure your appliances are installed according to fire codes to ensure that there are no safety hazards from heat sources in your kitchen.

It can be used as a fireplace surround on the exterior of a fireplace. Tiles should not be installed inside the firebox for wood or gas fireplaces, but only used on the facing.

If you have other usage questions or are looking for materials for alternate uses, please contact our customer service team so we can learn more about what you are planning.

What is the tile thickness?

This mosaic tile is approximately 5/16" thick

Can this be used as backsplash on the wall behind the stove? Can it be easily cleaned? What product would you recommend for cleaning?

Yes, this tile can be used behind the stove for a backsplash wall! It's made of glass, resin, and ceramic - none of which are porous materials that would absorb stains from cooking. You can use a gentle household cleaner intended for those materials to wipe it clean after use. We do recommend applying a grout sealer to grout lines to keep them fresh and keep them from absorbing stains as well.

Is this tile appropriate for fireplace surround? In other words, is it heat resistant?

Yes, you can use the Eclectic Slate Square Mosaic Tile as a fireplace surround - the materials appropriate for use behind the stove or around a fireplace insert (as long as they are not installed directly adjacent to the heat source, i.e. inside the firebox)
Minor chips, scratches and other imperfections are inherent in this product and should not be considered as defects or damages.