When it comes to laundry day, how excited do you get about the task at hand, really? We're going to guess not too excited. The issue usually lies in how uninviting most laundry rooms are. This all stems from the fact that these rooms are usually placed in a basement with cement floors, or in a closet inside your home with minimal standing room. All that spells out task avoidance. Trust us, we totally understand!
Allow us to change that perspective though with some laundry room tile ideas that are sure to brighten up your weekly routine! We promise once you see the beauty and versatility of laundry tiles, you'll be ready to hit 'refresh' on your space to welcome a springtime change that makes doing chores fun.
3 Tips to consider when choosing laundry room tiles: 
Before we dive in with beautiful inspiration, let's first touch base on some tips to set you up for success when selecting the best tile for your space.
Mix and match 
Never fear mixing things up! You can use different types of tiles in your design to make a unique-to-you statement. While it's easy to feel limited in a small space, don't! There are plenty of ways to shake up your style, so don't be shy. You can choose a terrazzo look hexagon floor tile and pair it with a staple subway wall tile or use a large format floor tile and match it with penny round backsplash tile. It's your call!
Laundry room tile design by: Ring Around The Rubins
Using a splash worthy wallpaper design alongside penny round floor tiles is a way to create a momentous laundry room design. Penny round tiles are a versatile and affordable way to add color into your home. With so many different colors available, you can easily mix-and-match different styles for an endless number of combinations!
Tile and wallpaper 
The power of textures goes a long way in laundry rooms where space is limited. With that in mind,  you can branch out and try a variety of wall treatments. Few things beat the beauty of creating a feature wall tile design that's half statement tile and half printed wallpaper. Or use all wallpaper and pair with a bold pattern floor tile design. Go crazy!
Keep your feet warm 
Textiles, not just the ones you're washing, are the key to making a cozy washroom tile design. Be sure to cover floors with small area rugs so on chilly mornings your feet stay warm! A quick tip? Use a bold pattern to bring out the tile colors in the space and tie the room together.
Herringbone Has It All
Our Ionic White Herringbone Porcelain Mosaic Tile creates a truly beautiful, and lux design in this laundry room. With its light hue and active visual movement, this is one wall tile that is sure to be noticed on chore day! The way it seamlessly blends in with the lighter gray cabinetry, white lacquer countertops, and ceramic basin sink has us in awe. 
Funky Fresh Whites
Creating a space around a white tile backsplash is simple and one of the easiest ways to make a unique laundry room design. While you may think this spell stains galore, we're here to tell you, that's not so! Using a white glass tile or porcelain white tile allows you to have all the flexibility of easy cleaning to make sure no stains occur. We love the way the above design incorporates a fresh white wall tile with bright sky blue cabinetry. It's light, and fun. Two words never associated with dirty clothes!
Country Chic Checkerboard Floors
Sometimes a twist on a classic is a great idea. This proves true with the time-tested black and white checkered tiles. Using them as a mudroom floor design is sure to bring about a retro chic feeling that hits just right. 
This beautiful French country chic design by Whitney Parkinson Design showcases the power of a classic combination. The black and off white ceramic floor tiles add a retrospective aesthetic that draws the eyes in and moves them towards the other standout elements in the space — namely, those gorgeous mauve colored cabinets and shiplap walls. If you ever thought chore day couldn't be chic, we'd have to say au revoir after viewing this space!
Puppy Approved Patterns 
Why not make your laundry room also a space for your favorite furry friend? Take a cue from this playful tile design: pattern marble tiles are the best way to your pup's heart. We adore the way the little nook was carved out to create a cozy napping spot for Fido, and our Weaving Flower Carrara & Thassos Marble Mosaic Tile seems to lead the eyes directly into the pooch's lair and washroom! 
Subway Stacks Up
This fresh, modern farmhouse backsplash tile is proof that subway formats will never go out of style. With a stacked lay pattern, Mindy Gayer Design, created a more contemporary look that wows. Complementing this handmade look ceramic tile with glazed finish, the muted sea green cabinetry balances the space out for the right amount of finesse. We also adore how the wicker baskets add a gorgeous natural touch and contrast to give textural interest.
Hexagon Meets Rustic Country 
n this space, there's no such thing as too neutral, and we're here for it! This tile design hits all the marks in creating a cozy, comfy and chic rustic country space. With ample storage space, thanks to the various bin solutions and cabinets, the small size doesn't feel cramped. Using a gorgeous multi tonal peel and stick accent wall tile, and contrasting it with crisp white shiplap walls, this room feels as refreshed as its linens!
Something New, Something Blue
The beauty of cement-look porcelain floor tiles shine in small spaces creating a seamless sense of visual interest while elevating the overall interior. The best way to make sure that chore day is never dull is with a funky floor tile!
When using a cement look porcelain floor tile, the key to maintaining its beauty is ensuring that the surrounding space doesn't overwhelm it. A great example of this tile idea done right is the above space by House Sprucing. The sky blue cabinetry works to pull the shades of blue out of the flooring and lighten up the overall aesthetic. By pairing with a  white picket hexagon tile on the wall, she was able to tone down and soften the room  to make sure the floors were the star of this space. 
Contemporary Cottage Appeal
The geometric marble floor in this space is instantly attractive. We are all for a marble movement moment, and this design delivers featuring our Sand Valley and Thassos Bow-Tie Marble Mosaic Tile. The overall space is the perfect transitional style which will allow the design to transform to the homeowner's needs over time. We're all for that.
Moroccan Fusion
We love a good statement tile and this space encapsulates that obsession in the best way possible. Using bold blue cabinetry, hexagon floor tiles, and a pattern backsplash tile…It is a trifecta!
Nothing beats the beauty of a modern farmhouse design with a Moroccan twist. The use of a statement porcelain tile backsplash creates a complementary story arch in this home's laundry room by Addison's Wonderland. We love the way the pendant lighting adds flair and floating shelves create extra storage in a classy way. Proof you don't have to be limited when creating a tile design of your dreams! Mix away!
Laundry Room Lux
Making a rich, and suave impact in this room is our Azul Cielo Octagon and Thassos Dot Marble Mosaic Tile on the floors. The mixed marble mosaic body with a hint of blue wraps the beauty of the space up and pairs it in the most luxurious way with navy blue cabinetry. Between the ample storage space, and matching wall tile, it truly reinvents the meaning of laundry room design. 
Spell It Out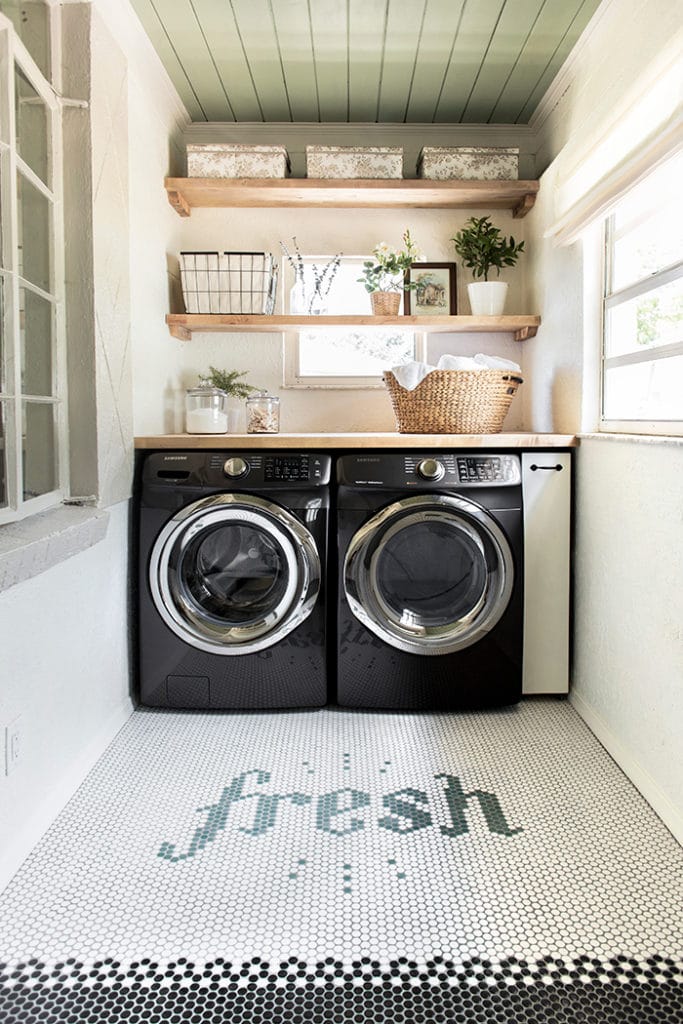 Penny round tiles are known for their sheer versatility and ability to make artistic statements. You can craft a space that speaks directly to your personality with these round mosaic tiles…literally. 
If you were wondering, yes, we saved the best for last. This spacious, bright, modern farmhouse interior by Jenna Sue Design is a phenomenal example of how penny tiles never go out of style. 
Why? You can craft seriously fun messages! Take for instance the way the designer used a white penny tile for the main flooring, retro black penny rounds to create a floral border, and in the center had the custom wording 'fresh' written to tie it all together. Fewer things get us more excited than a good, custom tile design! 
As you can see, when it comes to creating a laundry room design with tiles, there's really no wrong way to go about it. All it takes is your imagination, a little planning, and knowing which interior style speaks to you the most. Once you have that set, you're golden to start your refresh or renovation! 
There's no better time to kickstart your project than the spring. So, if you're ready to dive in today, explore our tile look book for even more inspiration.