Statement-making monochrome interiors can make any room feel put together with a clever approach. Unity will come naturally for your home's interior design scheme, and you won't have to worry about decorating mishaps when there is only one defined color throughout!
A balanced mix of tint, tone, and shade creates a visually appealing aesthetic. In the space above, the addition of wood tones and soft grays keep the black design elements from overwhelming the room. Our Decor Textured Black Tile makes for the perfect high-toned background. 
Keep in mind that a simplified look that veers away from the use of polychromatic hues will come off as bland and uninspiring with a lack of visual interest when done wrong. If you're looking to execute a monochrome design scheme, you might be wondering which color to run with, how to layer different tones and shades of it, and how best to decorate around that theme to craft a look that is as stylish as it is elegant and truly expresses the uniqueness of who you are. 
To break down the solid interior and help you make the most of this timeless trend, we share the best design tips and ideas to color coordinate your space into something entirely new. 
What is a Monochromatic Interior? 
Designing a space drenched in a selection of a single hue and different shades of it can result in a look that's bold, sophisticated, and unforgettable. This way of styling a room is known as monochromatic interior design. From the floors and walls to artwork and accessories, the shade of the foundation color can vary greatly to create more visual interest, depth, and dimension. 
This solid scheme includes all types of colors: subtle and bold. If you're looking to create a laidback and cozy feel, you may want to stick to more soothing tones and shades like the image above. For a look that's vibrant and eye-catching, picking a bold base color is all you need to create a striking punch! Image via Love to Know
People tend to link a solid color design scheme with a restricted palette of black and white, flat beige, or khaki. Contrary, this interior scheme that has taken the design world by storm extends itself to an exploration of any color imaginable. So, if you're not one for decorating with neutrals, a bold but focused color scheme gives an equal sense of consistency that's in vogue and high-toned. 
And while a monochromatic interior highlights a single hue, variation of tones and shades of that color prevents your design scheme from coming off flat and heavy-handed. For example, ash gray, charcoal, silver, and smoke remain a diverse but cohesive gray monochromatic palette. Similarly, a blue-focused room can make use of varying tones and shades… think a combination of midnight blue, cobalt, royal blue, and pastel blue.
Why Monochromatic Interior?
Because a monochromatic color scheme draws attention to a single hue, it is the best way to bring focus to the rooms' architectural details and set the stage for the distinctive decorative elements, textures, and subtle touches that tie everything together. 
If it's a dark and dramatic finish you desire, this bold kitchen is the inspiration you need to accommodate a daring look into your home! Image via Style by Emily Henderson
In addition, being laser-focused on one colorway offers a soothing and simple sensibility that affords you the luxury to easily switch things up when seasons change or your design preferences evolve. For instance, having walls and mainstay furnishings in all white creates a backdrop on which you can layer colorful soft furnishings and trendy accessories for a visually cohesive look. 
Subsequently, limiting your room to a one-color family can expand your creative imagination as you begin to explore new ways of enhancing a monotone background with color contrasts or textural variations that you may not have considered before, especially when working with an intense or unusual base color. 
Choosing a Monochromatic Color Palette 
If you're on the fence about mixing different colors to create a cohesive design finish, then working around a single hue makes it easier to achieve a look that conveys harmony and depth. But which color do you choose as your homogenous foundation? 
When selecting your base color, it's always best to go for a hue that's easy to live with. Are you for warm and cozy colors, cool and casual hues, or do you prefer muted neutrals that make it easy to switch things up as your design needs change? Image via HGTV
Choosing a color that instinctively excites you and aligns with your personality can help you conjure up an atmosphere you want to reign in your space. Depending on your ideas and risk-taking gut, you can choose whichever color you fancy: soothing greens, captivating browns, vibrant blues, bold reds, enchanting violets, or playful pinks, anything goes!
The sophisticated allure of a striking monochrome palette can be reinforced by selecting large pieces of furniture such as the sofa in your dominant color. Thereafter, accent pieces and soft furnishings featuring lighter and darker variations of that color can be brought in to complete the most stunning space you could dream up for yourself.
Where to Start in Creating a Monochromatic Interior
When creating a single toned interior, the successful combination of tones, shades, and tints of the base color will reward you with a sense of harmony and balance. And the key to a flawless design scheme is being confident in the way you bring together different components within the room. 
Start small with a subtle base color
Not quite ready to commit to a tone-on-tone aesthetic? Working a homogenous palette into a small space poses less daunting design prospects and can make a room look and feel larger.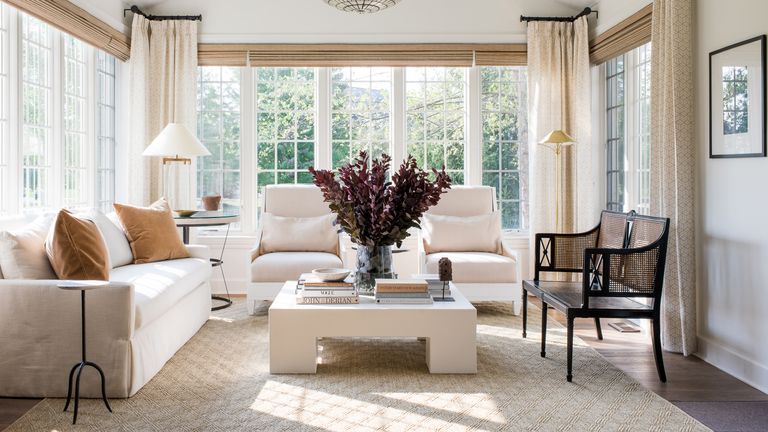 Neutrals, whether bright whites and beiges or saturated and rich browns and wood tones, are a forever favorite in bathroom design and can help craft a beautifully clean and inviting theme. This living room design via Homes & Gardens spotlights crisp,warm tones that expands throughout the space. 
The bathroom is a brilliant starting ground to play into the strengths of the monochrome trend. Because of its diminutive dimension, using different tones and variations of a more subdued color creates a clean, calming, and Zen-like ambiance perfect for winding down at the end of a long day. 
By this, we mean opting for a backsplash or floor tile in the lightest shade on the spectrum of your fundamental color. The simplicity of a subtle surface finish makes it less intimidating to design around if you decide to switch up your bathroom theme and go in a different direction. You can always bump it up with the room's smaller details that are easy to swap out. 
Additionally, when approaching a monochromatic design strategy, we suggest choosing wall tiles in a different texture to your floor tiles to add flair and character that enliven the bathroom. When paired with wood cabinetry and shiny metallic fixtures, the textural variation between different surfaces prevents the space from coming across as cold and flat.
In this 19th century Victorian Matlock House designed by Danielle Brustman, blue is the fundamental color and is used throughout the room, creating a cohesive and stylish finish that's easy on the eye. 
Pick one base color and repeat
Maintaining a streamlined color palette helps make the room's layout look clean and organized. Essentially, you want to pick one color and stay within three variations of it. Not only does this create a harmonious sense of depth but it helps with the transitions between rooms. Case in point: a rich blue wall can have a subtle yet grounding effect in the foyer, and as you transition into the lounge, you can go lower in intensity with base furnishings in a subtle blue and higher in tone with a deeper, moodier blue-gray for soft furnishings and textiles.
A subtle pink-on-pink color palette with Tile Club's Palisades Rose Pink Ceramic Tile sets an exciting and lively mood by making all the design elements stand out. While there's an intense use of vibrant color, the overall aesthetic remains elegant and well put together.  
Aim to strengthen an ambient mood 
As you're looking for color scheme inspiration, consider the function of the room and the kind of vibe you wish to create. Working with soft hues like blues, lilacs, beiges, and grays can result in a more soothing and relaxing atmosphere. Traditionally warm colors such as pinks, yellows, and browns lend themselves to a cozy and grounded ambiance. Keeping to a saturated monochrome color palette might feel dark and dramatic but also sleek and glamorous.
Create contrast with textures and patterns
Achieving a unified look is one of the benefits of pulling off a monochromatic interior. However, it's possible that a space with similar colors can result in a pretty flat and dull finish. 
Infusing two or more patterns can add impact to a setting that presents a tone-on-tone color palette. Here, our White Deco Hex Glass Mosaic Tile adds extra dimension and dynamism while keeping to its strictly white, silver, and gray bathroom theme. 
To combat this struggle, we recommend including pattern play here and there to add visual interest that engages multiple senses and gives your home its unique personality. Consider details such as throw cushions, a rug, a furniture piece, or an accent wall tile to introduce pattern into the scheme of things. Similarly, tactile variation is a great way to break away from a look that falls short of character without disrupting the overall monochromatic scheme. 
Varied textures within the space prevent a muted monochromatic look from seeming flat and dull. The Textured Wooden Beige Honeycomb Hexagon Marble Mosaic Tile contributes to the distinctive appearance of the room—bringing visual interest to the scheme of things in a way that doesn't feel overwhelming. 
For instance, if you're looking to incorporate throw cushions of the same (or similar) hue to your sofa, weave-in various textures to help define them a bit more. Sticking to the same colorway but varying the texture of the tiles you use on different surfaces creates the same effect. When light is introduced, it hits the various tile surfaces differently—which, ultimately, gives the space a different feel. The subtlety of the patterns or textures will be determined by how subdued the colors are within the interior setting.
Go bold and brazen with your color palette
Vibrant colors that inject the feeling of optimism can be intimidating to incorporate into a space, but there's no need to shy away from a fashionable alternative to the classic neutrals. After all, curating an interior centered around a monochromatic palette is already a bold move—why not go all in and opt for something that will surprise guests!
Say goodbye to classic neutrals and immerse your home in a delicious pairing of greens featuring our Palisades Bahia Picket Ceramic Tile! More and more deeply saturated hues have a way of making a space feel warm and cozy and we're definitely here for it! 
An effective approach to working a dramatic and brazen monochrome scheme is to slightly dilute a bold hue to make it more manageable for mainstays like walls and sofas. Being more daring with your wall art, rug, and throw cushions will undoubtedly change the perception of the whole room. 
Note that the opposite works just as well…. higher color intensity on wall surfaces can create a jewel-box moment. For example, an accent wall with bold red tiles in a striking hexagon pattern is sure to make a statement and set the tone. For surrounding elements, vary the intensity of the red color to link everything together in a cohesive manner.
A bright monochrome interior that's thoroughly considered creates vibrancy and a sense of sophisticated elegance. And once you get the layering of different tones, shades, and tints right, you start looking at bold colors in a whole new way!
Use the look to create a focal point
A tone-on-tone interior scheme is a fantastic way to elevate certain architectural features and design elements within the room. From a plush upholstered sofa to an exquisite chandelier to a decorative enclave.  Simply put, a solid color palette can help create a visual starting point for optimal flow.
In this room, a mix of black, gray, white, and gold creates a unified look that still emphasizes the monochrome home style. The Kasai Notte Kintsugi 10x60" Rectified Porcelain Tile laid to accentuate the fireplace surround easily becomes the focal point of the space without detracting the eye from the room's other elements.  
For instance, using high-toned tiles to accentuate your fireplace surround can provide a simple point of focus that dramatically draws the eye as one enters the room. Selecting lighter tones for the rest of the room's other elements balances the design without necessarily making them go unnoticed.
Ideally, the size of the highlighted architectural feature should be scaled appropriately with the size of the room so as not to overwhelm the space or appear insignificant and become overpowered by the surrounding elements. 
A pop of teal doesn't take away from the beauty and charm of the Nero Marquina Beveled Marble Subway Tile. Instead, it adds just the right dose of contrast to bring the overall theme alive! 
Try monochrome design with a pop of color
While this timeless trend focuses on a streamlined color scheme, designers regularly find exciting and unique ways to bend the rules of a strictly monochrome look. 
In some instances, they add a foreign accent color that strays from the designated base to break up the monotony. In a more neutral palette like black, white, and gray or shades of white and cream, the use of a single contrasting color can liven things up with an energizing element of surprise. However, make sure to use a small dose of extra color and with deliberate intention.
This could simply be adding bold mosaic glass tiles to the base of your kitchen island in a white monochromatic interior. Just this simple boost of contrast makes a powerful statement without dominating or disrupting the overall tone-on-tone finish. 
When working with a muted color scheme, paying attention to the smallest details results in a space that's full of character and charm. The Pike Peak Thassos White & Bardiglio Marble Mosaic Tile injects extra dimension and depth with its striking pattern—accentuating all the other white and gray components within the room. 
Pay attention to detail for a successful design finish
Here is where a monochrome interior gets interesting: many would think that working with a neutral scheme where everything is kept to its subtlety is the easier way to create a tone-on-tone look. However, when you strip the room of color (or lack thereof), texture, tone, and shapes become so much more important in fulfilling an interesting and dynamic design role.
To infuse lasting character into a quieter interior scheme, paying meticulous attention to the little details that often seem "insignificant"—right down to how natural light hits different points of the room throughout the day—will result in a perfectly-finished and flawless look you're working towards.
No matter how light or saturated you choose to go with your base color, keeping the overall scheme off from visual clutter creates a sense of harmony and sophistication. Here, Silver Diamond Glass Mosaic Tile keeps things visually interesting without overwhelming the space. 
Keep things minimal, avoid visual clutter
Too much clutter is another thing to avoid while designing a space. Even if there are only a few pieces of decor or furniture in the room, single color schemes can make a space appear visually chaotic, and adding too much of everything further fosters a sense of unease that impedes our ability to focus. Strive for a more simplified approach to combat an overwhelming and disorganized vibe. The more minimalistic a monochromatic interior looks the more quaint and balanced it feels. 
Monochromatic Design Schemes to Try Out
To give you a taste of how undeniably impressive this sleek interior is, we rounded up six ways to work this timeless trend—from soft and subdued neutrals to vibrant and deeply-saturated hues, and everything in between.
Green for an on-trend aesthetic

In this bedroom, the different shades of green are perfectly layered to create a cohesive look that blends in together seamlessly. Image via TLC Interior
Whether it's a palette of soothing greens that deliver a peaceful and relaxing nature-inspired cottagecore and chic farmhouse aesthetic, a combination of darker tones such as dark moss, symphony forest, and emerald green for an indulgent dramatic feel, or the tried-and-true lime green in lighter and darker variations, a green interior setting is always on-trend and can completely transform the feel of any living space. 
Blue on blue for a soothing feel

A blue monochrome bathroom design can walk the line between modern and bold or subtle and contemporary. In this striking blue tone-on-tone design, the blue and white patterned floor tiles add a playful and unique touch while the overall look exudes sophisticated flair that's sure to stand the test of time. Image via My Domaine
The calming and soothing nature of blue is the perfect hue to stain every inch of your bathroom space; from backsplash tiles to shower trims and niches, ceiling, vanity, cabinetry, and accessories. With just a slight variation in tone and texture, there's no denying the modern yet bold quirkiness that a restrained blue palette lends to a space that's big on keeping things clean and tranquil. Adding little touches of bright white can punctuate but not dilute the blue-on-blue floor-to-ceiling monochromatic scheme. 
Bright white and a cream touch

The Mallorca White Ceramic Tile is the ideal wall surface finish for a white and cream design scheme. Plus, its textured surface adds just the right visual weight! 
With its infinite iterations, we find an all-white scheme utterly stylish! Think crisp white subway backsplash tiles paired with more modern, streamlined, and geometric pieces. And then there's the addition of cream, which punctuates this "easy-to-fall-flat" design scheme with just the right warmth and depth.
Cheerful yellow with metallic elegance

There is nothing quite like yellow to give a room all the punch it needs! Here, this bold and vibrant hue gives the interior setting a glowy touch that feels irresistibly chic and contemporary. Image via Home-Designing
We love seeing homeowners explore daring style statements, particularly when working with bold and vibrant tile choices. Recent trends play into the idea of bathroom and kitchen walls splashed in swathes of cheerful hue. Bright yellow glass mosaic wall tiles paired with less intense design elements create a massive flow of energy. Bringing shining metallic fixtures into the mix further elevates this bold hue in an elegant way that's sure to coax deep admiration. 
Daring black for an enveloping effect 

Looking for a dramatic and bold transformation? An all black interior with gold accents may be all your need for a cocooning effect! Check out our Geo Deco Black Marble and Brass Inlay Tile.
A black monochrome aesthetic is one for the books! Perfect for a space that doesn't need to be overly calming such as the dining room, this daring palette of deep blacks paired with other darker colors like navy and mocha results in a dramatic finish that's full of flair and sophistication. Explore this color scheme into an accent tile wall, an area rug, a chandelier light fixture, and a tinted dining table with black chairs. 
A simplified monochromatic pair 

Our darker La Riviera Blue Reef Ceramic Subway Tile beautifully complements cabinetry work in a similar but lighter shade. 
There is something elegant about narrowing your color choices to two core shades—even more so if one is lighter and the other is darker. This works brilliantly in the kitchen…. dark wall and floor tiles and lighter cabinetry and décor result in a cohesive pairing and keeps the room veritably single hued.
A timeless monochrome setting has become an integral part of modern-day interior design. The simple yet classic combination of different tints, tones, and shades from a single-color family can give a sense of consistency to both contemporary and classical aesthetics. Tile Club offers a wide selection of bold and neutral tiles to help you put together a tone-on-tone look that's anything but boring.