The future is bright and full of color. The interior design trends for 2022 are all about bringing that brightness into your home, with bold colors and patterns. From the paint on the walls to the furniture in your living room, there are many ways to make a space feel more vibrant. With these tips, you'll be able to turn any drab room into an eye-catching masterpiece!
We couldn't be more excited about all of the nature-inspired design trends happening in 2022! We're following suit with our stunning Blue Gemstone Agate glass tile!
Vibrant Colors for 2022 Interiors
With all these vibrant colors emerging as interior design trends for 2022 we're seeing more tile than ever before! Tile is a great way to add some natural inspiration into your home without going overboard (although that certainly works too if it's what you like!).
Bold, vibrant colors aren't only for residential design. We offer a wide range of exquisite tiles perfect for commercial projects like this modern, upscale bar paired with our Red Foil Frosted And Glossy hexagon glass mosaic tile.
Neutral tones are on their way out in 2022, so don't hold back with the colors! One popular trend that we've seen emerge this year is those inspired by nature - abstract patterns mimicking wood grains or colorful stone formations look incredible when paired with crisp white cabinetry and countertops. We have an extensive selection of wood look tile to create this beautiful, organic aesthetic!
Farmhouse Design is still a major trend, and we couldn't be more excited to see wood look tiles leading the trend! Our Recycled Glass Herringbone Mosaic in blue wood color is a popular choice when it comes to achieving this look.
From vibrant blues and purples to hues of emerald green and bright lemony yellows, don't be afraid to experiment with color in your home this year.  If you want something brighter but not quite as bold as an entire wall painted bright purple or yellow, tile is the perfect option!
More of this, please! Gorgeous mustard tones paired with pink, gold, and animal print create a bold yet calming design by Pulp Design Studios via NBKA. Photo credit to Kendall Photographs.
Go for colors that make you feel good! One great thing about using vibrant colors is that there's no wrong answer when it comes to picking what they are as long as they speak back to who YOU are personally. Do you love the ocean because it reminds you of deep blue waters? Or does your heart beat faster every time you see a rich purple sunset over the horizon on an autumn day? The world is full of color and it's up to you to choose the ones that will bring your space to life.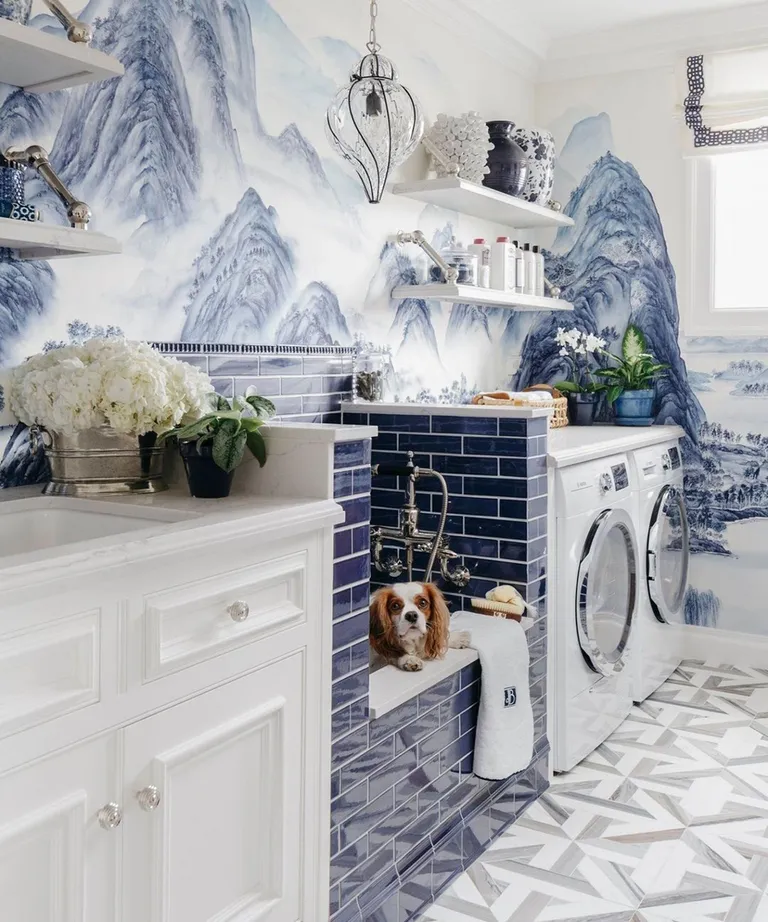 We love this perfectly cohesive blue and white mudroom design by Dina Bandman. By incorporating a beautiful color scheme paired with a beautiful mural, subway tiles and a geometric mosaic flooring, this design aesthetic is on point!
Keep in mind the mood that you want to create. If you want your home to feel cozy and inviting, go for warm colors like rose or mauve, terracotta, and warm browns. Our favorite hue on the radar is blush which adds a calming, cozy, yet sophisticated touch to any room. On the other hand, if you want to make your home feel more luxurious, blues and purples can help with that. Our La Riviera zellige style ceramic tiles are perfect for mixing up different colors while maintaining a traditional look.
Pink is here to stay and we are in love with this customer install of our La Riviera Rose Pink ceramic square tile. Choosing a blush color scheme paired with bold patterns has us swooning over this pretty-in-pink bathroom design.
All white spaces are quickly walking out the door this year, and a great way to add a splash of color is by installing a colorful kitchen backsplash paired with white cabinetry and mixed metal hardware.  We also recommend using colorful tile in bathrooms, hallways, and even the laundry room for a pop of color–no paint brush necessary! Whether you want to go wild with colors like we mentioned before (we won't judge!) or stick to warm neutrals, tile is sure to make an impression this year.
Adding a pop of color to your kitchen backsplash is a quick way to upgrade an all white kitchen! Our La Riviera Blue Reef ceramic tile is a great way to add trendy blue hues paired with mixed metals like brass, copper, or gold.
Bold Patterns Are In for Home Design Trends
With the move towards natural-inspired color palettes, it's only logical that people are starting to embrace more organic patterns as well.  Interior design trends for 2022 include unique textures like leather and fur mixed with beautiful tile designs such as florals, stripes, and geometric shapes. You'll see lots of these trends combined in one space and though it may sound strange, trust us when we say putting all three together can create an unexpectedly gorgeous look.
This beautiful bathroom design is the perfect example of choosing a bold black monochrome palette while pairing different textures to create an instant style statement. Black Mallorca tile embodies the handmade look of traditional Moroccan tiles and combines the gorgeous, glossy finish of zellige ceramic tiles.
Get Creative With Geometric Tile
One of the biggest trends for 2022 is geometric tile. This look is perfect for anyone who wants to add a modern and sophisticated touch to their home. Designed to mimic natural patterns found in nature, geometric shapes are a great way to bring some funk into your home. Geometric tiles come in many different shapes, sizes, and colors, so there's something for everyone.
Ready to go bold with vintage glam tile? Tile Club's Blue Deco Hex glass mosaic tile adds just the right amount of luxury with silver and indigo blue hues combined to make one stunning pattern.
Choose A Color Scheme
Geometric shapes in gray and black create a strong, yet calming pattern and color scheme in our Taco Melange Black porcelain tile.
When it comes to geometric tile, less is more! Try sticking to two or three colors max to create a cohesive look. Not only will this be easier on the eyes but it will also make the space feel pulled together. A great way to choose colors is by picking ones that are complementary (meaning they go well together). For example, a cool blue and a warm orange would be a great complementary color scheme.
Create A Focal Point
 Our Gray Deco Hex glass mosaic tile is the perfect statement piece to add interest and detail to any focal point. We love the fusion of black and gray in this mini bar setting!
One of the best things about geometric tile is that it can be used to create a focal point in any room. Whether you want to go bold with a large pattern or keep it simple with smaller tiles, this type of tile will make a statement. If you're not sure where to put your focus, try thinking about what you want the space to say about you. Do you want it to be sleek and modern? Or maybe more traditional? Once you've decided on the vibe you're going for, it'll be easier to choose which tiles are right for you.
 Go big or go home! Large format tiles are trending and we can't think of a better way to create a bold, sustainable statement focal point than with our Ionic Copper Decor rectified porcelain tile.
Mix And Match Shapes And Sizes
 There's truly no better way to mix up your tile than with geometric shapes, patterns, and colors! One of our favorite ways to incorporate cool tones into your design is with our Moroccan Green Arabesque vinyl peel and stick tile–perfect for renters without the fuss and mess of installing traditional tile.
Another great thing about geometric tile is that you can mix and match shapes and sizes to create a unique look. This is a great way to add some personality to your space. If you're feeling brave, go for a bold pattern with lots of different shapes. But if you're not ready to commit to a big statement, try using smaller tiles in different colors or shapes.
Back To Nature With Floral And Animal Print
Floral and animal print patterns are another popular design trend this year. Both patterns will give a different feel to the overall design of your space and can be used as an accent to highlight beautiful, vibrant colors and bold patterns. If you want to take your tile design up a notch, consider using mosaic tiles to express floral or animal prints in your next project.
The possibilities are endless when dreaming up the perfect custom design for your home. This stunning, custom mosaic mural by Tile Club is truly a work of art!
Mosaic tiles come in all shapes and sizes and can be used to create beautiful designs that will really make your space stand out. A great way to use mosaic tiles is in a floral mural wall. Not only will it add color and visual interest to the space, but it will also serve as a decorative focal point. We are seeing this trend more and more as botanical-inspired prints come to the forefront of interior design. 
Tile Club offers custom mosaic tile designs and murals that will create exactly what you are looking for. If you want to add nature-inspired and organic vibes to your home without having to maintain plants, creating a floral mural wall is most likely the best route for you!
Animal print tile is all the rage right now and for good reason! We might just have to blame "Tiger King'' for this one, or a general increase in acceptance for loud patterns lately, but animal print is currently all over the place.  And we're not talking your basic leopard print either; we're talking everything from zebra and giraffe to snakeskin!
Animal print tile is a great way to add some interest, color, and texture into rooms that might be on the bland side or are in dire need of an update. Plus it's pretty much always chic! Some of our favorite ways to use animal printed/textured tile are: kitchen backsplash, jewel box bathrooms, fireplace surrounds, and mudrooms.
 We love the sleek, sexy look of this textured reptilian tiled fireplace surround! Natural stone meets exotic pattern with our Wooden Beige Gator etched marble subway tile.
Not only is it on-trend but it's also super versatile. You can use it to add both interest and texture to any room in your home. If you're feeling a little intimidated by such a bold pattern, start small with a monochrome accent tile in an interesting shape, or go for something more subtle like a tile that has a textured finish. No matter what you choose, we promise you'll love the results!
Ultimately, It's Up To You!

 Bold, botanical patterns like our Decor Tropic Black evoke the ever trendy Jungalow style design and is an excellent way to bring the outdoors into your home while exploring strong textures and patterns.
 Whatever you find inspiration in, let it guide you to create an interior that is bold and unique to you. From mixing bold patterns to incorporating vibrant colors, this year is all about creating an environment that YOU want to live in. The beauty of it all is that there is no one-size-fits-all and no wrong way to create the design of your dreams. Remember to take inspiration from all walks of life and to be brave when incorporating a bold, bright space in your home!
 There are so many ways to express yourself with interior design and it doesn't always have to follow a specific set of guidelines. We love the subtle use of wood look porcelain tile teamed with bright pops of color throughout this living room design.
Whatever you find inspiration in, let it guide you to create an interior that is bold and unique to you. From mixing bold patterns to incorporating vibrant colors, this year is all about creating an environment that YOU want to live in. The beauty of it all is that there is no one-size-fits-all and no wrong way to create the design of your dreams. Remember to take inspiration from all walks of life and to be brave when incorporating a bold, bright space in your home!
Combine bold colors with natural patterns to create a warm, inviting interior. Deep emerald paired with marble subway tile is the inspiration that makes this design by Park & Oak sing!
At Tile Club we're here to assist you along the way, providing exciting and trendy tile patterns to inspire you. We are passionate about helping you create a space that is bold and unique to you! Don't forget to sign up and save on all your tile purchases so you can jump-start the new year with all your home interior projects that lead to a brighter, more beautiful home.