It's no secret that blush pink has proved itself as a formidable contender in drumming up unexpected dynamism in home design. These days, blush pink homes have firmly moved out of the "cute camp" and have transitioned to a rosier outlook—with top designers casting this subdued hue in sophisticated new ways.  
A soothing yet dynamic color, pink has an unmatched ability to bring life to any interior space. Here, a timeless and characterful
Blush Frost Diamond Glass Mosaic Tile
creates a really fresh canvas—and, at the same time, lends a striking touch with its bold art décor pattern.  
The use of pink has emerged in the world of interiors, with shades such as blush, dusty rose, mauve, salmon, and millennial pink making an unexpected statement in any setting. Alluring and pleasing to the eye, this subtle color evokes a sense of classic elegance that is soft, delicate, nurturing, and tranquil. Matched with the right materials and furnishings, this subtle shade can also become an original solution for creating a masculine vibe.
Depending on the chosen concept, its versatility allows you to use it in a variety of stylistic directions. It pairs beautifully with both light and saturated tones—and can serve as an anchor neutral to add instant flair or be used as a statement color or focal point of a room. Below, we highlight some of the most stunning ways to introduce this timeless color to your interior.
Interior design ideas with blush pink
Creating fascinating interiors with distinctive character is easier with this subtle but ambiguous pink shade! Blush pink is incredibly well-suited to a wide range of aesthetics including mid-century, urban cosmopolitan, bohemian, Scandi, modern, and contemporary.  
The handcrafted appearance of our
La Riviera Rose Pink Ceramic Square Tile
lends a touch of blush meets salmon. Its subtle tone offers a grounding influence that works effortlessly well as a neutral base color. 
Team with crisp white and you have a décor scheme that looks simple, bright, and fresh. Pair it with gold and both colors deliver the ultimate in feminine glamor. When used with various shades of gray, this muted pink shade creates a more masculine vibe. 
If you fancy a relaxing environment that feels equally elegant, blush tones and mint green are definitely worth considering. From subtle touches to attention-grabbing ideas, here are some tips on how to craft a blush pink home: 
Use as a beautiful neutral
Hues that have an ethereal quality and give a subtle gesture of color are most successful in conveying neutrality. Far from being just a feminine color, blush pink makes for a more interesting alternative to white, beige, or taupe and can be a nice base for a room.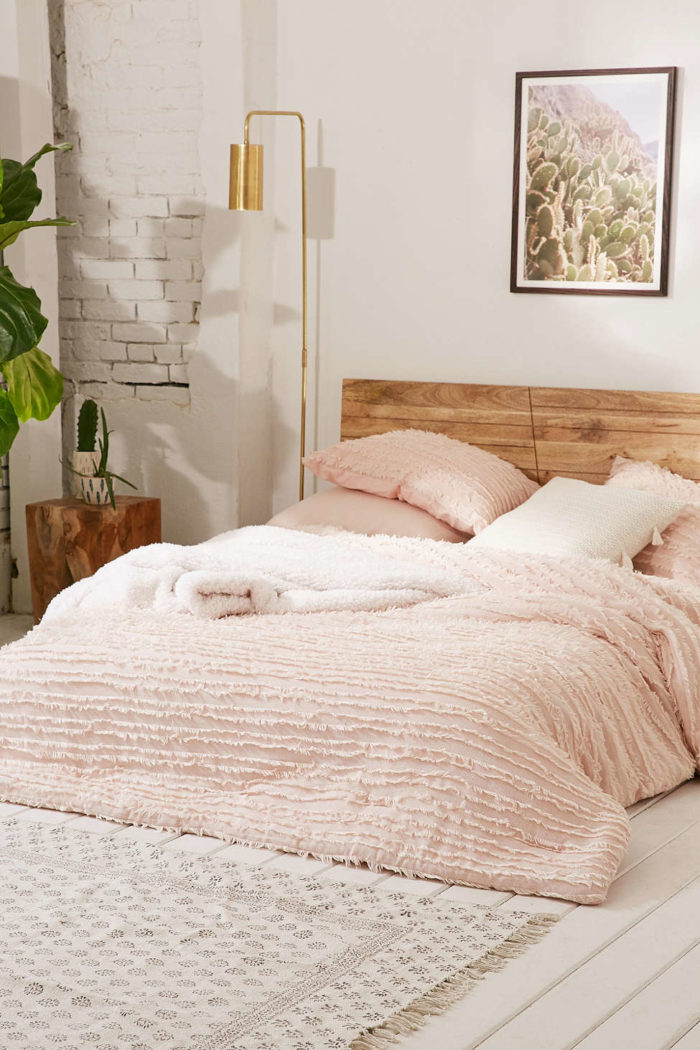 Due to its versatile nature, blush pink easily finds its place in a range of color schemes. It works stunningly well with both subdued and vibrant tones and can be introduced in just about any setting including modern, contemporary, Scandi, retro, minimalist, masculine, and industrial aesthetics. Image via Carla Bethany.
Implementing a neutral design scheme dominated by blush base furnishings can be done beautifully through drapery, throw pillows, rugs, sofas, or even wall surfaces in blush paint. There is a comforting element infused by the palest lick of pink that adds to the cozy ambiance of the room. 
Ultimately, a neutral blush background gives the room a more open, clean, and streamlined appearance—and when coupled with furnishings and furniture in nature-inspired hues like sage green, powder blue, and walnut, the overall scheme feels cohesive, sophisticated, and refined. 
Incorporate luxe and plush materials 
Blush pink adds a cheerful note to gray everyday life and looks incredibly comfortable in plush materials such as velvet. Luxe furnishings and surface finishes not only add depth to an interior space but keeping to clean lines and a sleek structure will also inject instant sophistication into the room. 
If you're keen on introducing timeless blush color, the key is in the details! This blush upholstered bed in rich velvet adds plenty of texture while bringing balance to the room's contrasting colors. Image via My Domaine
Spiced up with rich, bold colors such as navy blues, emerald greens, aubergines, and mixed metallics, it lends a decadent touch that harmonizes feminine and masculine in a subtle way.
Blush pink marble juxtaposed with gray and white design elements is the epitome of chic contemporary. Its light, fresh and soothing nature is a move away from the typical all-white kitchen and bathroom interior.  
For example, marble wall tiles are a surefire way to add warmth and character in modern, minimal, and contemporary bathrooms. Pair with bright white cabinetry and matte gray fittings and you have yourself a relaxing hideaway that's sure to garner a lot of admiration from visiting guests.
Infuse blush to warm up earthy tones
Thanks to their grounding effect, nature-inspired hues pair effortlessly well with many other colors along the spectrum, and pink is certainly one of them. Touches of this pastel color amidst predominantly neutral base furnishings lend a lovely sense of vibrancy and contrast. Think about pairing blush pink and light whitened wood, shades of greige, and black or off-white!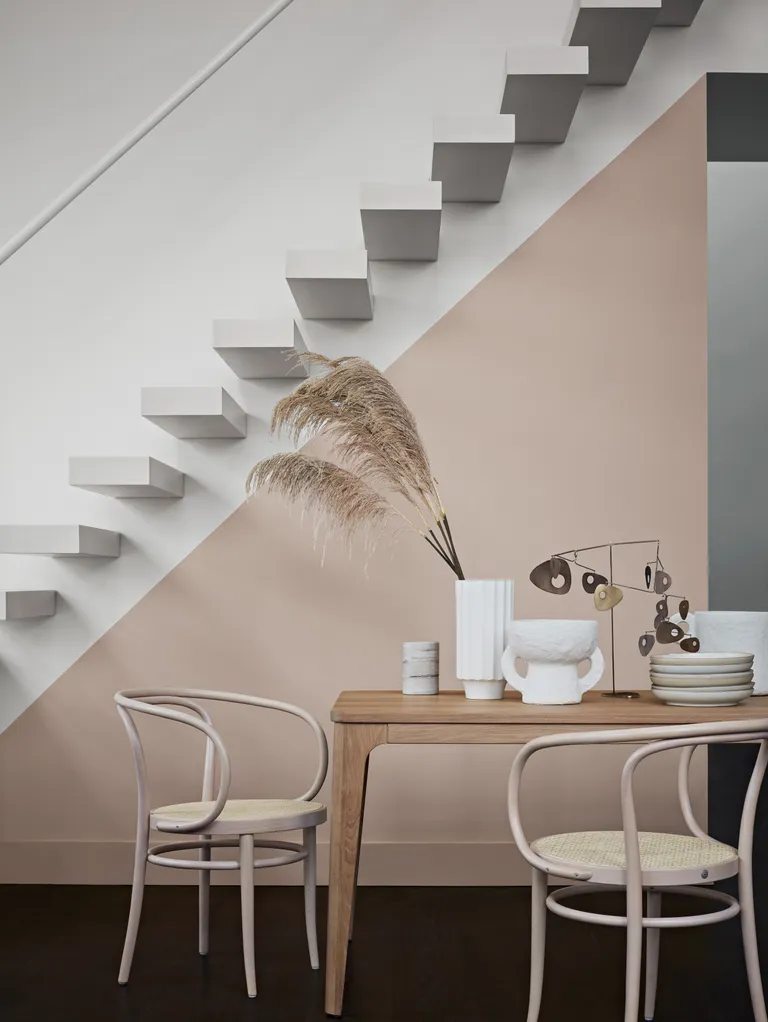 Blush pink subtlety perks up a neutral space, adding just the right depth and contrast. It pairs wonderfully with crisp whites, soft grays, warm beiges, creams, and light wood tones. Image via Real Homes
Another color partnership that results in a balanced and visually appealing modern interior is blush pink and gray. This combination is perfect for spaces deserving of a quiet respite (for instance, the bedroom or bathroom) as both shades exude a sense of peacefulness and calm, and, at the same time, offer a full spectrum of tone and depth. 
In the bedroom, an accent wall in soothing blush marble mosaic tiles provides a softly stylish canvas for a tufted charcoal bed topped with soft gray linens and completed with a mohair carpet.
Be playful with blush décor accents
If you're deeply in love with the understated vibe of blush but understand not to have too much of a good thing, we recommend a few accessories to introduce that bright yet soft touch of pink.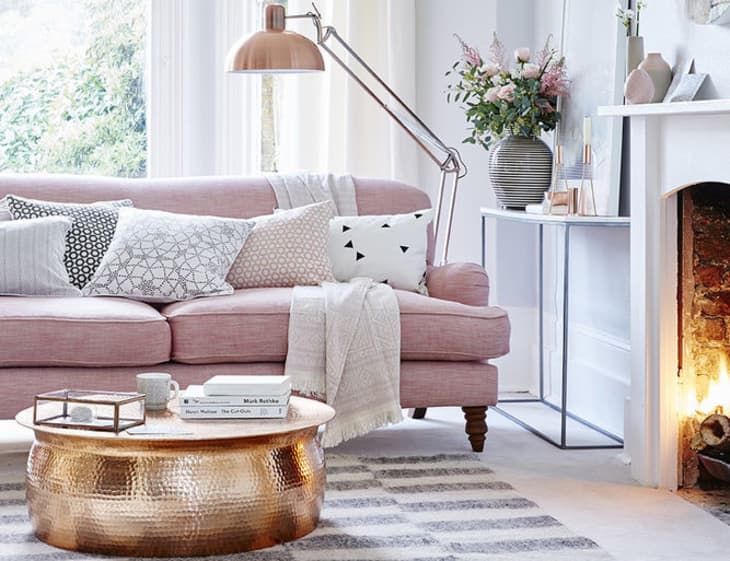 An unexpected pop of pink adds an element of intrigue! In the image above, a statement sofa delivers punchy impact without detracting from the rooms' other design elements. Image via Apartment Therapy
Simply incorporating a few coordinating accessories and accents in the blush pink such as decorative cushions, an area rug, window curtains, a table lamp, striking artwork, or even the couch itself delivers a confident statement without making the space feel juvenile. 
Ground a bold and eclectic theme 
With a grounding hue, making bold colors and eclectic elements relate harmoniously to one another is a cinch! Few notes of blush pink here and there keep intense, fully saturated colors from appearing overwhelming. 
Punchy touches of pink lend subtle softness to more vivid tones! Image via Deavita 
Because blush pink lends a calming, unified framework to a bold and eclectic décor scheme, it enhances the striking allure of bright decorative pieces by directing the eye toward the luminous spots of vivid color. What's more, its subtleness offers greater flexibility to play with different finishes and textures—allowing you to easily change bold accent pieces as your room scheme evolves. 
Go for an elegant tone-on-tone look
Tone-on-tone coloring or layering has a calming effect that is anything but boring. And we especially love how using a restrained palette of pink creates the illusion of more space. When furniture, soft furnishings, accessories, and other belongings match the walls, they tend to disappear into the wall making the room feel more spacious and less visually cluttered. 
Bear in mind that mixing different shades of pink, that aren't blush, can result in an equally pleasing interior finish. A blush hue can easily live among pale tones like dusty rose, mauve, and millennial pink to create vibrancy and visual variation. Image via Deavita 
However, any time you're going to limit color variation, you run the risk of the space looking contrived or just plain… boring. Varying the depth of blush pink throughout gives an effortless and sophisticated overall look with just the right amount of contrast. 
In addition, a tone-on-tone color scheme can be brought to life by mixing and matching different styles of furniture, textures, and patterns. This variation adds dynamism and keeps the room from falling flat or feeling one-dimensional.  
A feminine interior featuring our
La Riviera Rose Pink Ceramic Square Tile
in an oh-so-sumptuous blush shade complemented by blush cabinetry and seating results in an effortlessly stylish tone-on-tone finish. 
In a living room, use a darker shade of blush paint for the walls, and then lighten the same color with furniture, accessories, and textiles—both patterned and plain—to achieve a sense of cohesion and depth. In a kitchen, a light-bouncing glass backsplash tile in a slightly deeper blush hue paired with pale cabinetry and floors feels as fresh as a daisy. 
Make a bold statement 
While you can achieve a more subtle look with blush pink, you can make a bold statement too! If you're looking to add endless character to a lackluster space, painting your ceiling in blush is a stunning way to make an eye-catching style statement while simultaneously adding a cozy and cocooning feel.
A bold floral wall mural with soft and bold shades of pink creates a striking look that is sure to make a lasting impression. Pairing with saturated furniture and furnishings brings greater emphasis to the various pink blooms, easily allowing the wall mural to become the focal point of the room. 
Dressing any corner of the home with a blush pink tile is also proving to be a loved choice for infusing some personality and warmth. From inherently beautiful marble to delicate floral glass mosaics to fascinating subway porcelain, blush wall and floor tiles offer plenty of creative options.
This Peony Lavender Mixed Squares Glass Tile adds just the right dose of accent color wherever it is placed. You may want to keep the rest of the space neutral to allow these different shades of pink mosaics to stand out brilliantly and blend seamlessly.
Accent tiles work well as an interesting backdrop or a defining feature—particularly in places where you'd least expect to find them. For example, creating an accent wall with eye-catching, geometric mosaic tiles in the foyer adds a unique and fun twist that will proudly declare your sense of style to everyone who steps into your home.
When used to define architectural features in the living room, say the fireplace surround, blush tiles pack a punch that is nothing less than remarkable. Offering lots of patterns to experiment with, from triangles and squares to hexagons, or chevron shapes, a blush pink tile is a surefire way to elevate your interior space from plain to pizzazz instantly.
Whether you're designing a large bathroom or a cozy powder room, enriching the space with a blush textured tile is guaranteed to deliver style and flair. Shower walls and bath surrounds in our La Riviera Rose Pink Ceramic Subway Tile 2.5x8" lend a soft yet striking touch of elegance. 
Pale blush wall tiles offer a grounding effect to graphic patterned floors, ensuring a balanced and cohesive look throughout. Our
Calacatta Gold Skinny Herringbone Mosaic Tile
makes for the perfect addition to bathrooms deserving of a serene and sophisticated touch. 
Balance a dark patterned floor 
Dark floors with an inlaid graphic pattern deliver a fashionably chic yet grounding effect that almost expands the ceiling further away in a trick of the eye. This works strategically well in small bathroom settings. If you don't want the room to look too busy, blush pink wall tiles are a perfect addition to quiet bold patterned floors and inherently make a room feel even more spacious. 
This "go-with-everything" shade could be just the pick-me-up your home needs! Whether you're drawn to an elegantly feminine aesthetic or simply looking to soften a masculine interior, you can use as much or as little as you desire. Tile club offers a range of pink tiles brilliant for infusing a touch of luxe to a bedroom, bringing endless charm to a kitchen, softening a modern and minimal living room, or adding newly sophisticated character to a bathroom. Sign up and save on all tiles online and get started on your rosie new home design!