Barbie has taken over the world as we know it! With the upcoming Barbie moving reigniting our childhood love for the iconic doll, pink has taken over everything from fashion to home décor. Barbiecore interior design has been on the rise before Greta Gerwig and Margot Robbie decided to give us their take on the fabulous toy, but this trend has taken off thanks to the buzz about their movie! Ready to embrace the pink and plastic aesthetic of Barbie's Dreamhouse and incorporate it into your home décor?  Check out our take on the Barbiecore trend and how you can incorporate it into your home with fabulous pink tiles.
What is Barbiecore?
There are so many ways to bring home Barbiecore style. from Palm Springs Retro to Grown Up Glam. Create your own Barbie Dreamhouse with these design ideas, like a luxurious dressing room accented with our Mother of Pearl Diamonds mosaic tile.
Barbiecore is a trend that is all about embracing the girly and playful aesthetic of Barbie and incorporating it into your home décor. This trend is characterized by bright pinks, pastels, and a lot of plastic. Barbiecore takes inspiration from the Barbie world, including her dream house, which is a perfect example of the style. This trend is all about embracing the fun and playful side of design and creating a space that is whimsical and lighthearted! 
3 Ways to Create Barbie's Dreamhouse at Home
Looking to live that Dreamhouse lifestyle? Whether you love the retro kitsch of the Palm Springs style that inspired the Barbie movie's Dreamhouse or you want to add just a touch of feminine fantasy, there are so many gorgeous ways to bring a little Mattel style to your space.
Embrace the Color Pink
Pink is the signature color of the Barbie world, so much so that the movie Dreamhouse set caused a nationwide pink paint shortage. Embrace this color in your home décor by incorporating pink accents throughout your space. From throw pillows to curtains, there are endless possibilities when it comes to adding pink to your home. And, of course, we've got you covered when it comes to stunning pink tiles!
Pink can be subtle, too! If Barbie's trademark fuchsia isn't what you envision for your house, softer colors like this Norwegian Rose marble picket tile adds a sweet detail to a romantic kitchen backsplash!
Add Playful Touches
The Barbiecore trend is all about embracing the playful and whimsical side of design. Add playful touches to your home décor by incorporating fun and unexpected elements. This is the opposite of traditional home decor - think fresh, contemporary, and cutting-edge elements to elevate your home or office.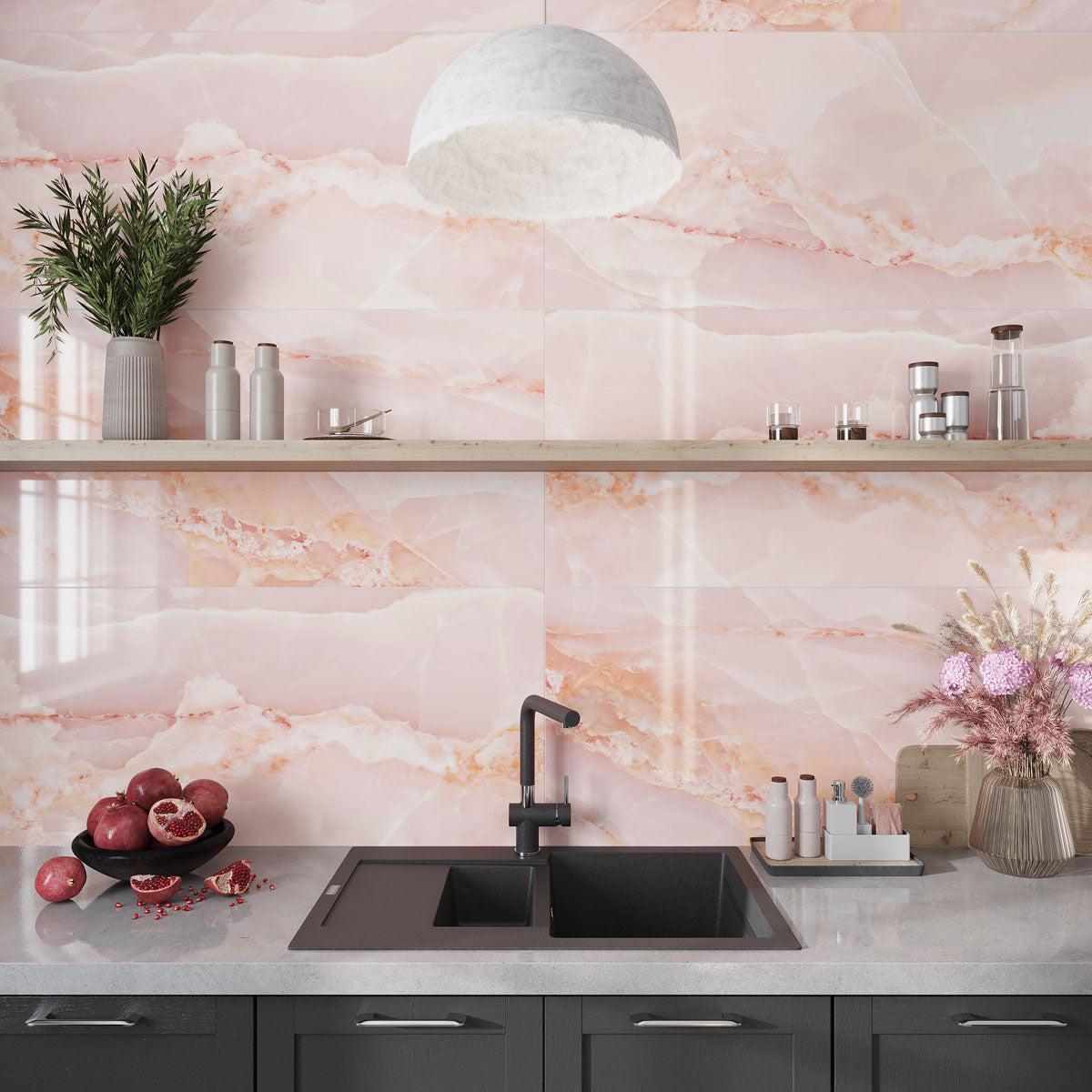 This Pink Onyx porcelain slab backsplash adds a 'wow' factor that's easy to dress up or down depending on your style! With the look of precious stones but the low maintenance of porcelain, it's a great way to add whimsy to your home decor without adding cleaning time to your routine.
Embrace Plastic
We're getting a little meta with this one, but plastic decor is as Barbiecore as it gets! Pink plastic accents, neon signs, and acrylic details are a gorgeous way to bring big girl whimsy to your style. 
Pair a pink neon sign with our Japandi Gray slat wall panels to give your space a contemporary feel with a whimsical detail!
5 Barbie-Inspired Home Decor Ideas to Inspire You
Tiles are a great way to add a pop of color and pattern to your home décor. When it comes to Barbie-inspired tile designs, there are endless possibilities. Here are a few ideas to get you started:
Pink and White Checkered Tiles
One of the most iconic patterns from the Barbie world is the pink and white checkered floor in her dream house. You can recreate this look in your own home with pink and white checkered tiles. This pattern adds a playful touch to any space and is perfect for a kitchen or bathroom floor.
This look is easy to recreate by combining two different tiles! We love this look with a custom checkered layout of our La Riviera Rose and Blanc square ceramic tiles. To create this playful pattern on your own kitchen walls, divide your total square footage in half (including overage!), and order half of each color. It's that simple to create a fun decorative wall design!
Pink Subway Tiles
Pink subway tiles are a great way to add a bold pop of color to your home. These tiles are perfect for a backsplash in a kitchen or bathroom. They add a fun and playful touch to any space and are sure to make a statement.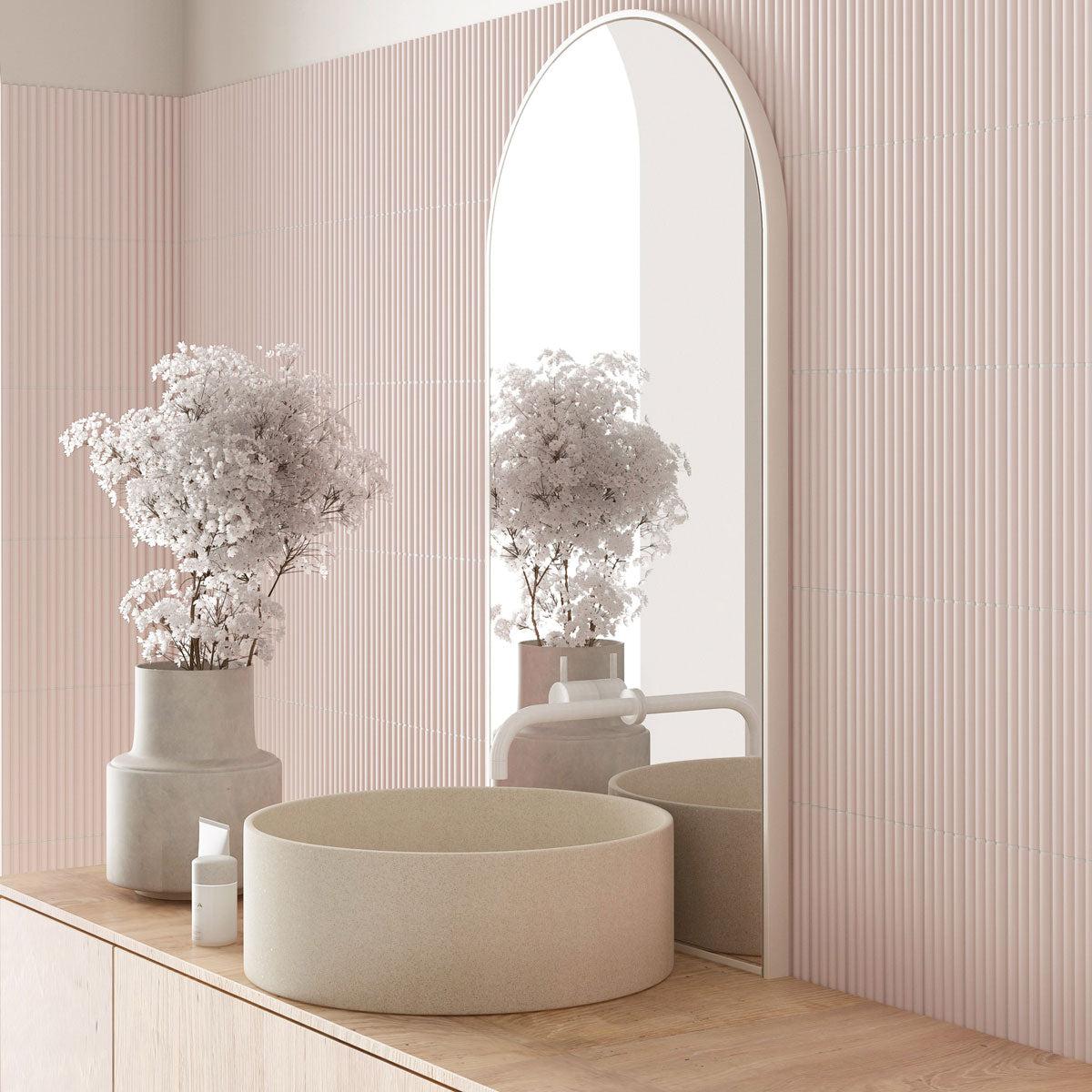 Our Groove subway tiles have a simple, mod-inspired look that perfectly captures the retro Palm Springs vibe of Barbieworld! Create your own Dreamhouse by installing these Groove Pink Deco tiles - the sculptural design and matte finish are a wall covering and wall art all in one.
Floral Tiles
Floral patterns are a staple in the Barbie world! Floral tiles are a fun way to add a pop of flower power, combined with . These tiles are perfect for a backsplash or accent wall in a bathroom or kitchen. They add a feminine touch to any space and are a great way to embrace the Barbiecore trend.
This beautiful bar backsplash combines white Thassos with Norwegian Rose marble, giving this mosaic natural pink tones. The floral tiled wall pairs perfectly with quartz countertops and brass cafe shelves. The result is totally grown-up Dreamhouse!
Polka Dot Tiles
Polka dots are another classic pattern that is synonymous with Barbie-inspired decor. Incorporate this trend into your home with polka dot tiles. These tiles are perfect for a bathroom or kitchen backsplash! They add a playful touch to any space and are sure to make a statement.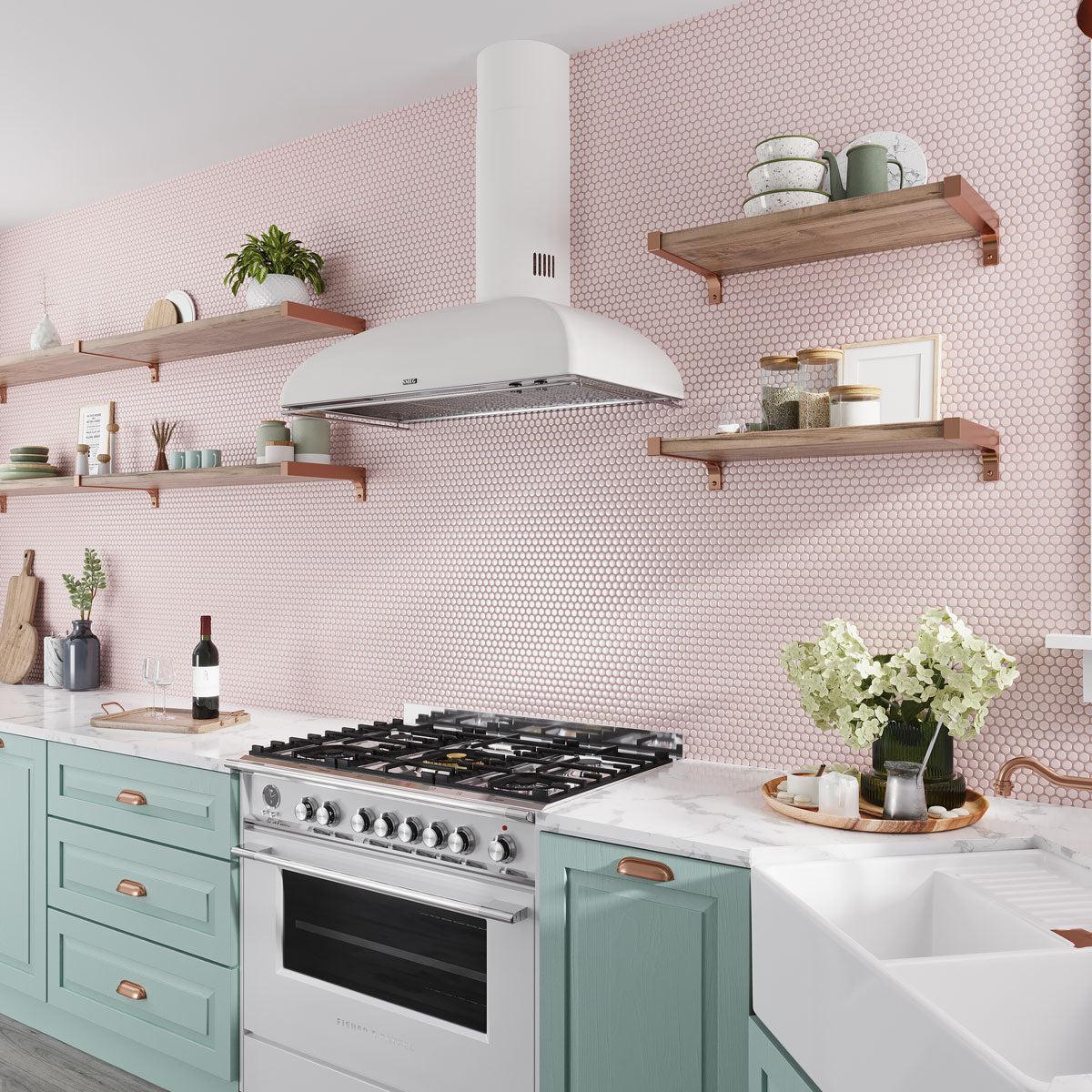 Our pink porcelain button tiles are the perfect way to add a polka dot effect to your walls or floors! Although they have a delicate look, the durable material is a great choice for wet floors in your bathroom, mudroom, or shower. Proof you can have practical and pink all in one!
Glitter Tiles
No Barbie-inspired design would be complete without a touch of sparkle. Glitzy tiles are a great way to add a touch of sparkle to your home décor! These tiles are perfect for a backsplash or accent wall in a bathroom or kitchen. 
A gold glass penny tile adds glitter with a sophisticated twist. This luxurious bathtub surround is the perfect place to unwind after a day in the real world.
Want to take it a step further? You can use glitter grout! It's a fun way to dress up a classic subway tile backsplash or play off of sparkly tiles for a full-on sparkle explosion. 
-
Do you think Barbiecore is the latest blink-and-you'll-miss-it social media trend, or does this design have lasting power? Check out our pink collection for more fun ideas to bring this iconic style to life in your own dreamhouse!