Pearls have traditionally been associated with elegance and luxury—it is therefore no surprise that the newly coined aesthetic, "Pearlcore," has reignited interest in this oceanic gem. The rising design trend of incorporating natural pearly accents into home décor brings forth a timeless classic style that demonstrates just how a little bit of pearly shimmer can transform not just your wardrobe but the home front, too. 
Indulge in  this beautiful iridescent style with the exquisite quality of Mother-of-Pearl tile finish. Here, Pearl Chic White Marble & Mother of Pearl Waterjet Mosaic Tile effortlessly inject stylistic flair while beautifully capturing the intriguing allure of old-world charm. 
Pearl design, predicted to dominate in 2022, takes elements of old Hollywood glamor  of the 1930s and gives it a thoroughly modern facelift. We are thrilled to share with you this simple guide on how to weave the pearlcore trend into your home. 
What is the pearlcore trend?
Simply put, pearlcore is an aesthetic that embraces translucent, shiny pearl touches. Pearls have been appointed as the go-to accent for home décor application; everything from furniture pieces to surface finishes to paint color schemes and beyond. 
The Blue Leaf Recycled Glass Mosaic Tile, with its polished pearl-finish, adds dynamism with an enchanting leaf pattern. Its deep blue gray shade beautifully complements black and metallic elements, resulting in an elegant and regal design finish. 
In response to its annual Pinterest predicts report, the platform reveals that, "In 2022, people of all ages will embrace iridescent accents in their homes, in their jewelry boxes and even as nail art."  We can expect this trendy aesthetic of infused  "edge, texture" and an "exquisite iridescent glow."
Why Pearls are Trending and Timeless
Pearls have always had a rich history—often linked to aristocrats and royalty. For a long time, they were considered valuable and rare—and, like most valuable gems, one would have to "dig deep" to acquire such elegant material. They became a focal point for fashion and symbolized great wealth and exotic travels. 
In the 1950s, natural pearl accents became much more affordable and were an everyday part of life both in the fashion and interior design world. Imports and advances  in technology through 3D printing have also made this precious stone easily accessible to people other than the rich and famous. 
Recycled glass tile with a pearl-finish is an exciting way to weave in the pearl decor trend into bathrooms, kitchens, living rooms, and any other area of the home that is in need  of timeless sophistication. Ideal for both interior and exterior application, our White Pearl Penny Recycled Glass Mosaic Tile easily finds its place in a range of design styles. 
A natural gemstone created by oysters, pearl design is loved for its iridescent finish that lends timeless mystery and an air of elegance to interior and exterior settings. And the best part about this  trend? It doesn't demand a particular design style to find its place in your home. Whether you're a minimalist, maximalist or lean towards contemporary or traditional styling, there's a pearl home decor aesthetic that's right for your personal taste.
Wildly versatile, pearl accents are an age-old design element that have stood the test of time and we continue to explore ways in which we can extend their longevity well beyond 2022. All elements that mimic the beauty of pearls have a permanent spot in home design—pearly inlaid surfaces and furniture, pearlescent wallpaper, iridescent shell tiles, and iridescent paint perfectly exemplify pearlcore. 
Tile Club offers an extensive collection of Mother of Pearl tiles that are perfect for homeowners and designers drawn to the pearlcore aesthetic. Below, we introduce you to the different ways to incorporate this new favorite trend. 
Light your home with iridescent fixtures
Elegant design comes down to the details, and that's where an iridescent light fixture comes in. Pendants, chandeliers, and other types of lighting with a pearlescent finish are a brilliant way to work the pearlcore trend and magnify your living space with timeless beauty. 
Light fixtures come in different styles and can be the key piece that helps you create a well-defined space, no matter your aesthetic preference. An iridescent inspired lighting fixture is more likely to be defined by ornamentation—similar to classic French country lighting style that's considered to be the jewelry of the home. Think… a chandelier made from shimmery glass beads that drop like a layered pearl necklace—when installed in the entrance hall (where first impressions are made), it will ensure your living space never feels too dated, too trendy or, worst of all, mismatched.
Alternatively, you can simply incorporate a pendant fixture made from translucent Capiz of the windowpane oyster. These incredibly charming and stylish light fixtures come in various shapes — ball shaped, square, rectangular, and tiered — and all cast off a warm glow of magical, ambient light that's perfectly suited for chic coastal and Hamptons interior settings. 
Emphasizing all the unexpected little architectural vignettes such as an alcove with a shell home décor piece can create a dramatic impact without overloading your space. Image via Venetto Design.
Incorporate pearlescent decor 
If using an iridescent finish on the walls and floors feels too permanent, consider weaving in the pearlcore aesthetic into your interior space through decorative accents such as vases, bowls, trays, clamshell lamps, and other decorative items. Furniture pieces featuring a shell inlay are sure to infuse immense visual interest, depth, and dynamism to any space. 
If you fancy something over-the-top by the bucketload, go for a furniture piece with a striking combination of dark wood highlighted with patterns of white mother-of-pearl. Or, for a whole lot of pizzazz and heightened drama, opt for accent furniture covered top-to-toe in shimmery shells. 
Other decorative ways to invite this trendy aesthetic is to dress windows with Capiz shell curtains to allow natural light to flood your interior space; invest in a striking centerpiece such as an artwork crafted from tiny pieces of Mother of Pearls; or a mirror with a show-stopping shell-studded frame that brightens the wall on which it placed.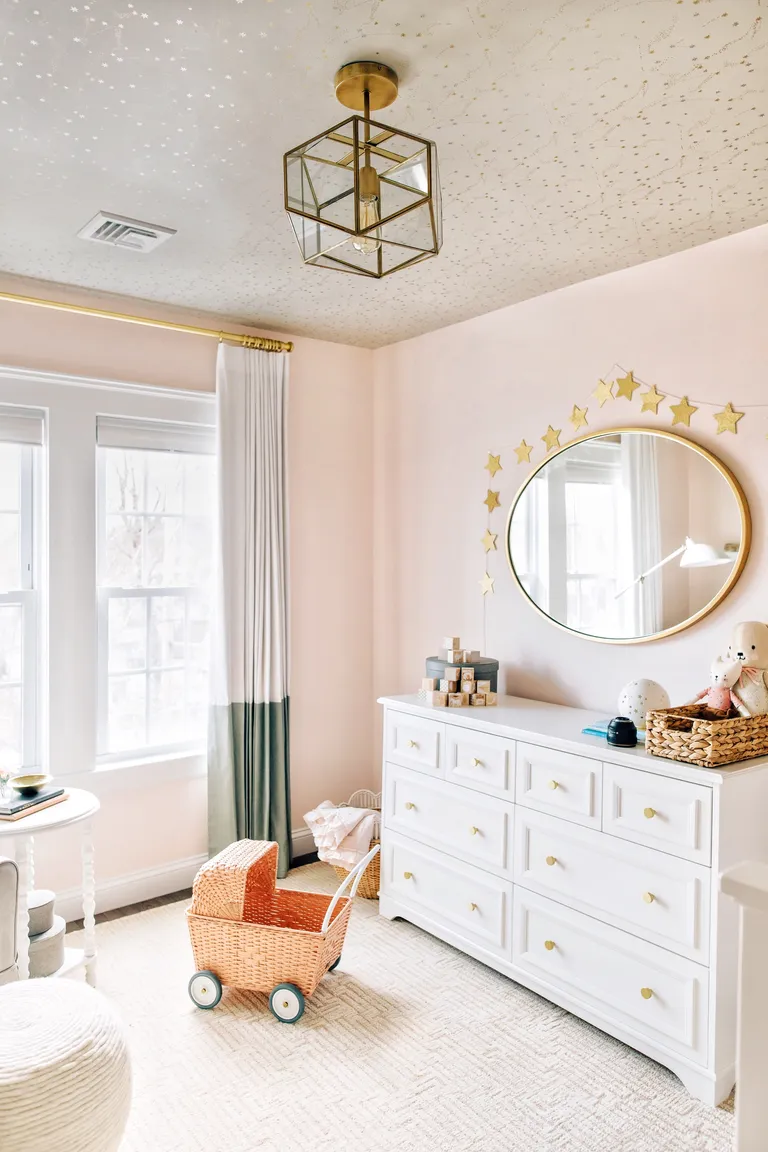 Not sure how to make a unique statement in the bedroom? How about a lasting impression on the fifth wall! This gilded wallpaper adds a touch of vibrancy to this playful bedroom setting. Image via Real Homes 
Get pearly with iridescent wallcoverings
When you think of a pearlcore-inspired wall paint that is classic and elegant, an iridescent color is one of the first that comes to mind. Aside from adding a refined touch that makes a space stand out, we would like to think of paint color with a shimmery undertone as warm and welcoming. Benjamin Moore Pearlescent Tints, Pearl from PPG, and a range of Dulux Design Pearl Effect colors are some of the visually compelling shades you can use to create the glamorous luster of natural pearl.  
Iridescent wall colors work beautifully with furniture and other objects in neutral and light tones so as to ensure a welcoming and harmonious look that feels equally clean and cozy. They also marry well with décor accents in metallic finish such as gold, silver, and rose gold to convey sobriety and elegance.
Tile is a gorgeous alternative to wallpaper and is much more durable and easy to clean! We love this beautiful iridescent Pure White Illusion Mother of Pearl tile for moisture prone areas.
Furthermore, iridescent wallpaper is the perfect foundation for the pearl home trend. We mostly love how a wallpaper is an affordable way to jazz up a space—and no matter what design statement you're going for, there's one for every occasion. On that note, wallpaper with a pearlescent effect on the fifth wall (aka the ceiling) may be all you need to create a bold impact and lend flair to your interior space!
When in doubt, opt for iridescent fabric
Whether contemporary or traditional, light-toned velvet, satin, and silk can give the sheen of pearl. Depending on the angle of view and lighting, these luxurious fabrics offer a pearlesque sheen that punctuates  your space in a way that translates your desired mood. For example, layering a combination of satin and velvet scatter pillows on a minimalistic sofa will bring in just the right dose of visual weight and glam needed to spruce up your interior space. 
Turn to wall and floor tiling
Luminous, shimmering and iridescent, Mother of Pearl is an opulent natural material that transcends time and perfectly attuned to be used as a surface finish that adds a subtle luster or create an exceptionally dramatic statement. Many spaces, including the powder room, bathroom, kitchen, living room, foyer, as well as exterior areas, can benefit from its special glamor . You'll especially appreciate how this seemingly delicate pearlescent material is hard, resilient, and durable, making it an ideal surface application throughout the home. 
This Herringbone Pearl White Thassos Marble and Shell Tile perfectly infuses pearlcore trend in an elegant and sophisticated way. The radiant white backsplash provides the perfect backdrop for a modern vanity with a reflective finish. 
Rejuvenating and luxurious spa-like feel
Shell mosaic tiles, as well as pearl-finish tiles such as glass, are most often used in bathrooms because their nature-inspired quality effortlessly inject a chic seaside-inspired feel. Iridescent tiles work especially well in all-white or neutral settings—and just a strip of luminous mosaics is enough to elevate the plainest backsplash—making it look cooler and oh so covetable.
From warm, earthy tones to cool and iridescent shades of gray, these alluring tiles can be used on a larger scale. Accentuate shower walls and niches or a bathtub surround with such tiles to create a dreamy and tranquil retreat that take cues from the elegant appeal of luxury spas. 
For an upgraded look that's eye-catching, clad your wall tiles in a herringbone pattern—and when the night falls, create a romantic experience by lighting pillar candles and watch the candlelight dance along the glistening walls.
Whether you're looking to complement a traditional setting or elevate a contemporary aesthetic, pearlesque accents like this gorgeous Pure White Mother of Pearl Herringbone Mosaic Tile can add visual interest and depth to the scheme of things. 
A striking accent design statement
If you're looking to enjoy the splendor of the pearlcore trend with shimmering tiles, consider creating an intricately eye-catching accent wall or a decorative highlight on the fireplace surround. When used to cover a larger surface, pearlescent tiles have an overarching power to create a striking look that doesn't feel garish thanks to their sophisticated nature. 
Spotlighting an iridescent gleam that's hard to ignore, this Geometric Pearl White Thassos Shell Tile brings a distinctive touch to the kitchen backsplash, easily making it the focal point of the room. Pairs brilliantly with both subdued and bold design elements. 
Luxurious kitchen with a distinctive gleam
Take the idea of pearlcore through to your kitchen by transforming a basic neutral wall into a striking centerpiece. The iridescent details beautifully reflect light, resulting in a bright, spacious room with deep elegance. To gain a modern and magnificent appearance, team Mother of Pearl backsplash with white cabinetry and metallic fixtures—or for a sweet contrast, pair pale shell tiles with natural wood cabinets. 
Why stop at backsplash when cladding the same tile on your kitchen island down to the floors looks fabulous with a capital F. Whether using Mother of Pearl or glass mosaic tiles, maxing out on "shimmer" creates a design finish that's both daring and supremely enveloping. 
Spruce up your wet bar backsplash with a pearly backsplash! Our Pearl Sail Waterjet mosaic tile adds a movement and interest with the combination of shell and beautiful Calacatta gold and Thassos marble.
With their undeniable beauty and luxurious appeal, Mother of Pearl and glass tiles can be laid on floors. But before installation, be sure to check with the manufacturer  if that particular tile is rated for floor application. 
Pearlescent surface finishes and décor accents are a fantastic way to introduce the pearlcore trend into your interior environment. For more tips on how you can use this new trend in your own home, be sure to check out our Mother of Pearl collection page. Each piece is 100% natural, which means each has a unique allure. Don't forget to sign up and save on tile when you subscribe to our free newsletter!