If you're like most pet owners, you consider your furry friend to be a part of the family. And just like other members of your family, pets can be messy. If you have tile floors, keeping them clean and looking new can be a challenge. But with a little bit of effort, it's definitely doable! In this post, we'll give you some tips on how to clean and maintain tile floors with pets. Let's get started!
 Tip #1: Clean up pet messes as soon as possible
One of the best ways to keep your tile floors clean is to clean up any pet messes as soon as they happen. This will help prevent stains if you have more permeable flooring and make cleaning up a lot easier. If you have a litter box, be sure to scoop it out at least once a day to cut down on the spread of germs and litter. It's important to choose a dedicated feeding area in your home for your pet to reduce messes, scratches, and stains. And if your dog or cat is a messy eater, consider purchasing a durable rubber mat to lay underneath their food and water bowls.

If you have laminate flooring, consider changing to tile. Laminate is easily damaged by liquids, so if your dog is still potty training or a messy eater, you need to find a more durable option! Even water tracked in by your fur friend's paws can cause damage and swelling to laminate flooring. Tile is easy to clean, stain and water resistant, does not hold stains like carpeting, and provides a smooth surface for your pet.
Pro Tip: Never allow urine to sit for long on tile floors even if they have been treated with a sealant as the pH level can affect the color and overall appearance of the tile if this continues to occur over time.
If you're looking for a reclaimed wood aesthetic, look no further than our Retro Blanco Hexagon Whitewashed porcelain tiles! An excellent choice for high traffic floors where multiple pets can romp all day!
If you have a large breed or highly energetic pet, we recommend installing porcelain tile floors, known for its durability and resistance to stains, scratches, and odors. The versatility of porcelain tile flooring is one of its most appealing features. It may be used in almost any room and comes in a variety of colors and patterns. For a more natural look, porcelain may be manufactured to resemble real stone tile. If you want to imitate a beautiful hardwood floor, you may use porcelain wood-look tile, which is more long-lasting and durable than genuine wood flooring.
 Looking for a greay way to pet proof your bedroom space? Check out our King Silver gray honed porcelain tiles! These beautiful pieces create the same look of reclaimed wood flooring with all the added durability of porcelain.
Hardwood floors are easily scratched by pet nails and warped by damp conditions,  so they are not a good choice for homes with pets. If you have hardwood floors, use area rugs to protect the surface of planks especially in high-traffic areas. Many pet owners choose laminate flooring rather than hardwood floors since it is a more budget-friendly alternative. Laminate, on the other hand, can become deformed or swollen from moisture damage if not maintained on a regular basis, and can also be hazardous for aging dogs.
The cat's out of the bag! Did you know that when sealed properly, marble tile can help prevent unseemly pet odors? 
When purchasing tiles for your floors, you have to keep in mind the amount of traffic they are going to get. If you have pets, you need to consider buying tiles that are more durable and long lasting. However, if by chance one of your tiles gets damaged or broken, it's easy to replace it with a new one. 
Tip #2: Vacuum your tile floors regularly
Vacuuming is another great way to keep your tile floors clean. Be sure to vacuum them at least once a week, or more often if your pet is a heavy shedder (or loves to roll in the dirt!). This will remove any debris or hair that may be stuck to the tile or in between grout lines. For easy to clean floors, consider installing ceramic tile throughout your main living areas. These tiles are perfect for high traffic areas and make vacuuming a breeze since hair, dust, and dirt will remain on the surface. Ceramic tiles are a wonderful option for elderly pets because of the many advantages they provide, such as durability, slip resistance, and water resistance. Ceramic flooring is also an excellent option for homeowners on a budget! They make a beautiful (and easy to maintain) choice for kitchens and bathrooms–two areas where your pet will likely be trailing close behind you!
Cleaning is a breeze with our Esagona Intarcio Silver wood look porcelain tile! 
Be sure to select a vacuum brush attachment that has good suction and will offer a good, deep clean in between grout lines. Always be sure to practice safety precautions, and never vacuum over wet or soiled floors. Cordless canister style vacuum cleaners with HEPA filters are a wonderful solution for homes with multiple pets making cleanup quicker and easier. If you don't want to deal with the weekly fuss of moving furniture around to vacuum, why not treat yourself and your pet to a robot vacuum cleaner that will get the job done for you! These vacuums are perfect for bare surface floors making them a great option for cleaning tile floors. Why not free up some of your cleaning time (and supplies!) so you can spend more time playing fetch with your furry friends?
Interior designer, Dina Bandman, hit the nail on the head with this beautiful combination of wood look geomtric tile and subway tile!
Tip #3: Sweep or Swiffer daily
Before you go to bed every night, be sure to sweep your floors with a broom and dustpan or opt for a Swiffer style broom with dust trapping disposable cloths. This will ensure that there isn't anything stuck on top of your tiles in the morning when you walk across them with bare feet (and we all know that being a pet owner means life is ALWAYS full of surprises!). If you have dogs that spend long periods outside they'll likely be bringing in dirt, mud, grass and leaves that may be tracked around the home, then daily sweeping is especially important.
 Patterned flooring is the way to go if you have a pet that's a heavy shedder or tracks in a good amount of dirt! Our Chateau Blue Sprig Ceramic Mosaic Tile embodies a beautiful, classic herringbone pattern mixed with a bright color palette to hide all the things you don't want guests to see!
If you simply just don't have the time to sweep daily (who does these days anyway?!) finding a patterned tile that is likely to help hide dirt and furballs is a great option. Tile Club has a variety of patterned floor tiles that will do just the trick! If you have an aged or small breed pet and are concerned about the comfort and temperature of tile flooring, there are heated flooring systems that can keep your pet cozy and warm during the winter months while also keeping him cool in the summer. We recommend pairing heated flooring systems with marble, ceramic, or porcelain tile floors for the best outcome.
Create a neutral, cozy kitchen with our Crema Marfil 10 inch hexagon honed marble tile. This natural stone tile will withstand the test of time when sealed properly, making your kitchen one of the best loved spaces in your home for your pets!
Marble is an excellent choice for pet owners  because it looks beautiful and doesn't absorb stains or odors (plus, it's a dream to sweep!). It is a perfect option for any living space, especially if your pet likes to lick the floor! Marble also offers incredibly slip resistant features, making it a wonderful choice for aging pets who need a little extra support.
It's important to maintain a safe, slip resistant floor for your pets, especially if they are aging. Tile is a wonderful option to ensure your pet stays comfortable and safe! Three Birds Renovations got it right with this bright grooming station design.
Marble tile flooring from Tile Club is both durable and stunning adding elegance to any room in your home, while keeping pets happy and safe as they roll around the house! Some pet owners shy away from natural stone and marble since it's a relatively porous material compared to porcelain or ceramic - but there are easy ways to make it pet-safe! We recommend sealing marble floors once every year to keep it looking its best and help prevent stains and watermarks. Sealing helps extend the life of your tile floors while adding a beautiful shine that makes cleaning easier down the line.  Read our article on how to seal grout and tile for more information on keeping your floors in excellent condition.
PRO TIP: Don't forget to seal grout to prevent heavy duty cleaning in between grout lines! We recommend our Marble Look Porcelain Tile if you're concerned about having to deep clean your grout.
Tip #4: Use a mop every week
If your tile floors are starting to look a little bit dirty, don't worry! There are several ways you can clean them without having to spend a fortune. One popular method is to use a steam mop. Not only will this clean your floors, but it will also kill any bacteria or germs that may be lurking on the surface. Keeping a tiled floor clean isn't as difficult as you think it would be. Dirt does not get trapped in or around the material; instead it falls on top of it. You can sweep up all the pet hair and debris using a vacuum cleaner or simply wipe it with a damp cloth to make your tiles look like new again! This not only helps to reduce the amount of deep cleaning you need to do with pets in the house, but can cut down on pet dander related allergies and irritants - another bonus!
Another great way to clean tile floors is with an all-purpose cleaner and a microfiber cloth. Just spray the cleaner onto the floor and wipe it up with the cloth. This method is perfect for removing dirt, dust, and pet hair from grout lines. For tougher tile floors, try using tile floor grout cleaner. Just wipe it on with a sponge and allow the tile to dry for several hours before walking on it again. This method is particularly helpful if you have pets who are still being house broken or that like to use your tile floors as their personal bathroom!
Pet-proofing your home doesn't mean you have to sacrifice style or luxury! Our Calacatta Honed Herringbone mosaic tile will add both elegance and efficiency to your home.
Slate tile flooring is an excellent option for creating a pet friendly home.  Sealing slate flooring helps prevent pet urine from penetrating the surface, which can cause discoloration or staining.
Slate is naturally resistant to odor caused by bacteria and mold, making it an excellent choice for kitchens, bathrooms, entryways and other high traffic areas in the home. These natural stone tiles are very durable and easy to clean with little-to-no chance of scratches. With proper care, slate flooring will maintain its rich color even after years of wear.
Add some whimsy to your pet friendly home with floral pattern tile! Our beautiful Floral Eternity waterjet tile is a perfect option to elevate your home while providing a durable flooring material to last through the years.
Tip #5: Polish your floors every few months
Finally, consider polishing your floors every few months. This will give them a nice shine and protect them from scratches and other damage. Depending on the type of polish you use, it may also help to repel dirt and grime. Just be sure to follow the manufacturer's instructions carefully so you don't end up damaging your floors instead! We also recommend using a grout sealer for added protection against scratches and pet accidents.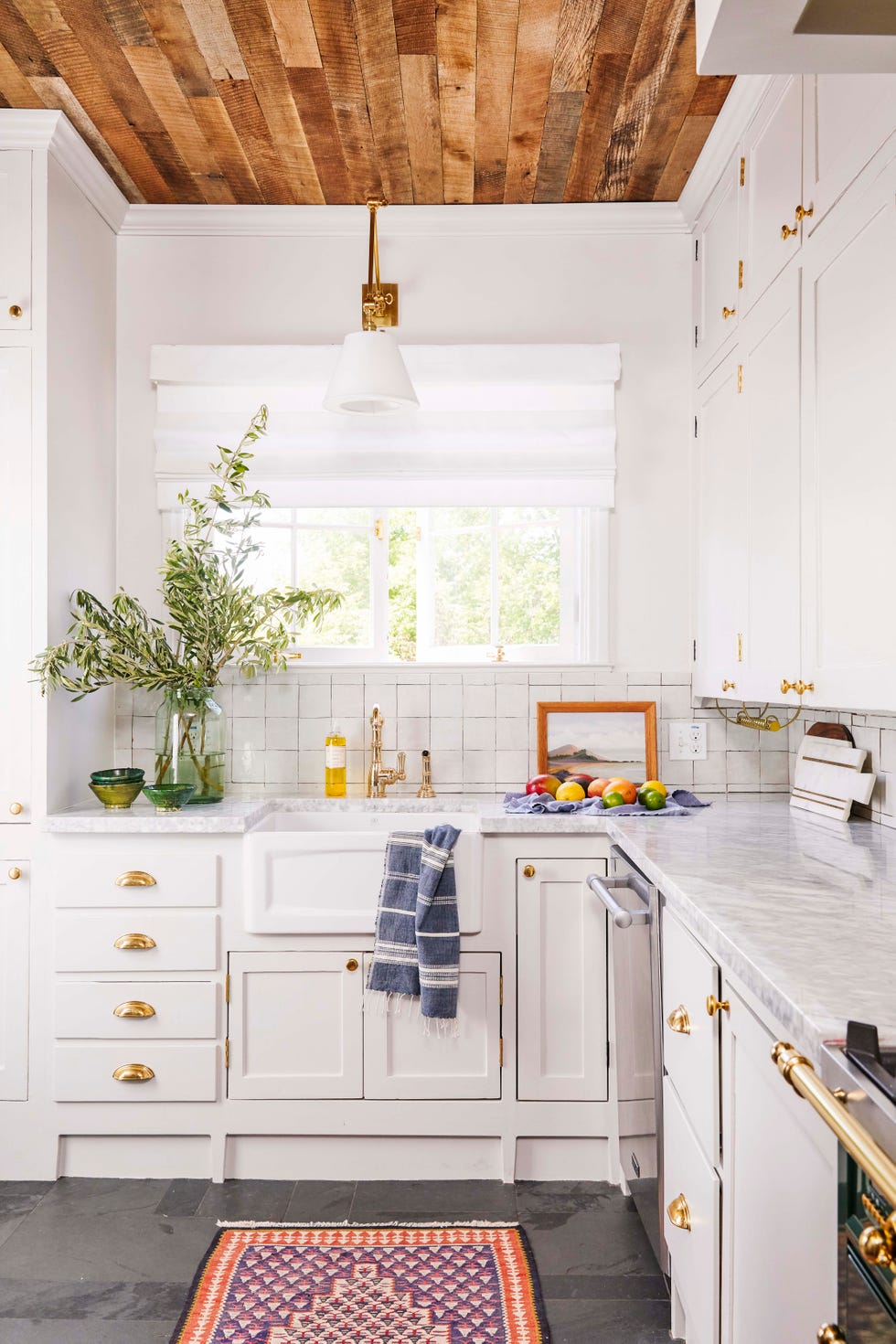 Slate tile is a stunning way to bring your floors to life! Not to mention they are an excellent solution for pet-friendly flooring due to their scratch-resistant qualities and durability. Dee Murphy's kitchen design is the perfect example of how slate stone tile can add a hint of warmth and luxury to any space.
Natural stones like marble, slate, granite, and limestone are wonderful pet-friendly flooring options because of their durability and scratch-resistance when combined with a tile sealant. Not only does natural stone provide a distinctive look to your floor, but it also protects them from almost all forms of damage caused by furry friends. For optimum performance, don't forget to seal your natural stone floor tiles on a regular basis and ensure they're cleaned and polished often.
Inspired by geometric design, our Melange Natural porcelain wood look tiles is sure to enliven your space AND hide any furballs from view!
We hope these five tips will help you make the right decision for your next flooring project. Tile is a durable, scratch and water resistant option that looks beautiful in any space and provides endless design options to fit your style (and pet needs!). Plus, with our free newsletter we'll send you exclusive discounts on tile. Sign up today and start saving now!