Designers agree that pattern is a powerful decorating tool for any home, and some argue that it has even more impact than color. The options are aplenty, to create spaces in styles ranging from minimalist to maximalist, and everything in between. But if you're one who likes the geometric theme, straight lines, and classic elegance, we know one pattern that might satisfy your design expectations: checkerboard!
Bold and nostalgic, this visually strong motif has been a beloved look for centuries. Inspired by the timeworn black and white floor tiles at the Palace of Versailles and Victorian hallways to  French country houses and 1950s American diners, checkerboard home decor has recently stepped into the spotlight, once again!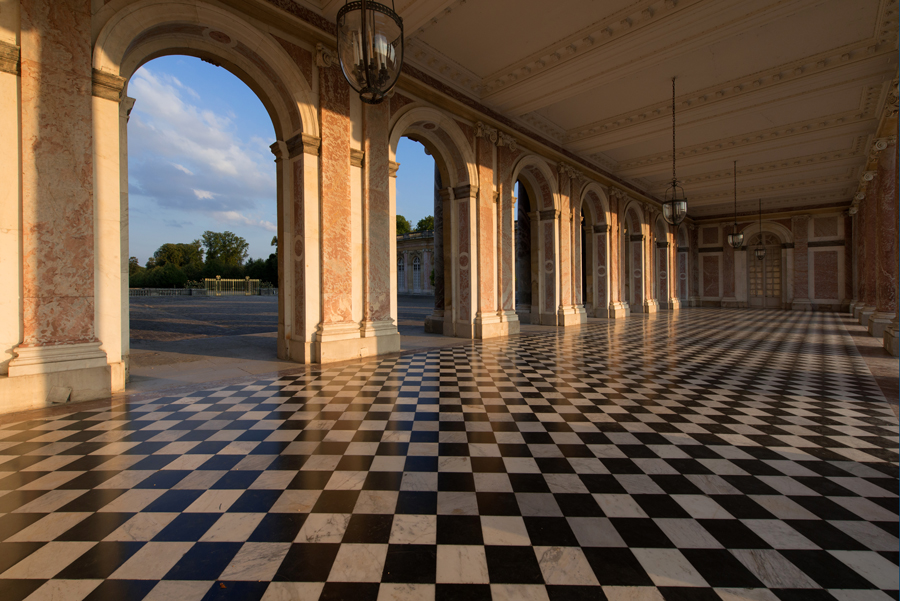 The famous shot of The Grand Trianon in the beautiful palace of Versailles is a reminder of the historic appeal of this geometrical flooring that never ages! 
The classic staggered arrangement of black and white squares, reminiscent of a chessboard, is popping up across textiles, wallpaper, tiles and more. The appeal is simple: the checkerboard is fabulously simple yet bold. What's more, it's now taking on new forms to become more modern and creative, turning into an exciting decor choice that transcends the old-world style we typically think of!
Whether you're interested in staying true to its historic appeal, or like to explore different interpretations for a more exciting look, we've got you covered! In this blog post, prepare yourself for a lot more than the typical checks, and get ready to find a roundup of our favorite checkerboard tile designs, from unique mosaic backsplashes to large format floor tiles, that will help you tap into the checkerboard decor today!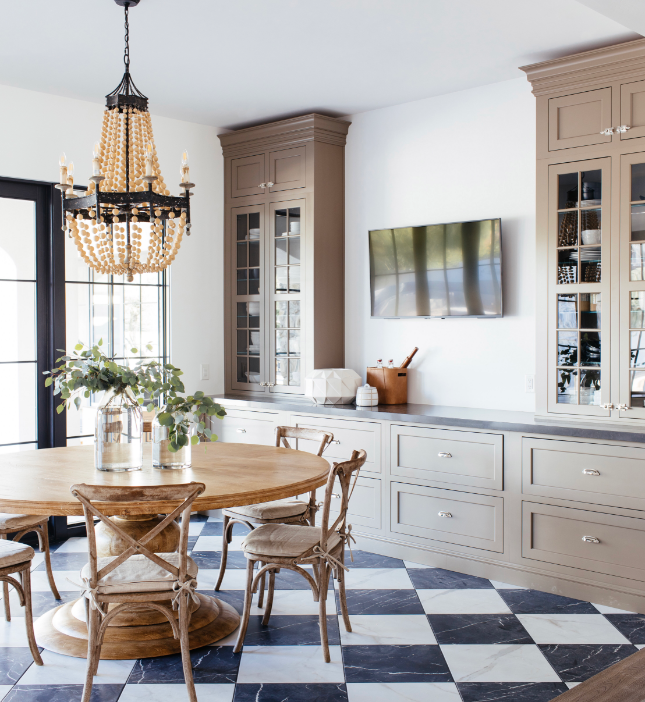 Exuding a sense of casual luxury and comfort, the classic staggered arrangement of high-contrast marble tiles never fails to impress, lending an air of opulence and sophistication such as in this kitchen floor design by The LifeStyled Company.
The Classic Elegance
The traditional black and white pattern is still alive, and as part of the return of maximalism, large format checker floors are having a big moment! Marked by their high contrast and geometric appeal, the style adds drama to any home without being overly fussy. The best part about this combo? It's classy and versatile enough to be replicated at any home - whether it's Victorian, contemporary, Palm Spring or modern farmhouse! 
This beautiful basement bathroom design by House of Jade is the perfect example of checkered flooring meets timeless design!
While some of us like to take the pattern in a more bold direction, others like a more subtle approach. For a more minimalist aesthetic, consider pairing Thassos White 12x24 Honed Marble Tile and Bianco Carrara 12x12 Honed Marble Tile. This beautiful coupling serves as a timeless choice while still demonstrating the appeal of an oversized checkerboard pattern. This basement bathroom features gray and white marble tiles for a checkered look that's attractive enough to make a statement but soothing enough to ground the patterned wallpaper design. 
Designer Tip: For a more modern step, lay the tile straight, rather than on a diagonal, and opt for a matte or honed finish to enhance the casual feel of your patterned floors. 
A Fun Retro Twist 
If you love checkerboard home decor but are worried that the end result might be too classic, there are plenty of tile pairings to recreate the look in a bright, fun, and creative way! Instead of choosing the same repeated blocks of black and white squares, how about going with randomly placed large format hexagon tiles — a combination that sounds classic, but in reality will make all your maximalist dreams come true! 
Styled by pairing Magic Matte Porcelain White and Magic Matte Black Porcelain Hexagon Tiles, this flooring design takes the checkered pattern to new heights! In an otherwise traditional, all-marble bathroom, this patterned floor offers an unexpected splash of contemporary style that creates the perfect blend of old and new.
You can play into the popular 1920's and bring a modern retro twist to the classic checkerboard pattern with hexagon tiles to create a big dose of personality in what is otherwise a very neutral space. This playful spin on the classic checker floor not only makes the space feel fun with visual texture but also remains chic and sophisticated for years to come. 
Optical Illusion
Another modern interpretation of the checkered trend is small-scale square mosaic tiles. Simple enough to dress up backsplash areas in a wide range of settings, yet interesting enough to create personality and playfulness in the rooms… Bring a fun twist to the classic checkerboard with mosaic tiles that feature multiple shades and materials including glass, metal, mother-of-pearl, marble and more! And if clean and crisp geometrics aren't your jam, the wavy version of this class pattern is really pretty too!
With hard lines becoming more fluid and curvy to give a feeling of movement within the room, our Waterfall Azul Cielo & Thassos Marble Mosaic TIle Polished envelopes this kitchen with a soft, textural and sensual appeal!
Incorporating checkered mosaic tiles is a cool way to freshen up a space. You can accessorize your shower area with a checker patterned floor, and bring a touch of the ageless appearance while creating a slip-resistance surface. A wavy checkered pattern is a unique take on the trend, and really draws your eye for a showstopper backsplash design in any kitchen or bathroom. Paired with the lines on the accessories and textiles, your space can really give you a double hit of this playful style!
Check the Texture
Do you crave for something more daring than the plain checkered mosaic tiles? Then keep true to the classics using the chessboard pattern with a touch of contemporary by choosing a textured surface instead! For those whose decor just can't swing the traditional decor scheme, showcase your unique style with a pleasing mixture of different shades and textures and give your space extra dimension. The result is an effortless yet beautiful checkerboard touch that does not overpower the room! 
Our Sticks White Carrara Marble Mosaic Tile recalls the classic checkered form with a contemporary approach, thanks also to the use of individual tile inserts that are designed to form the impression of squares.
We love the way this feature wall gives the living space personality without taking off its neutral simplicity. The patina on the marble tile showcases classic taste while it introduces the pattern with a more tonal approach, creating a great talking point for a living area! 

A Touch of Glam
Part traditional, part modern, with a touch of glam! Pearl tiles are all about timeless chic style. Reminiscent of the ocean and shimmering sand beneath your feet, lustrous shell tile is another twist to using unique materials rather than the traditional marble for a checkered floor or backsplash design. If black and white squares bring on feelings of racing flags, or you want to showcase classic geometry with a gentle shimmer, authentic mother-of-pearl tile is the way to go!
For a glam way to switch up this classic pattern, look no further than our Mother of Pearl Checkerboard Mosaic Tile! Pair with colorful cabinets and mixed metal hardware for a glamorous kitchen design.
Beige, brown and white mother-of-pearl tiles are versatile enough to dress up kitchen backsplashes, feature walls, borders, mirror surrounds, niches and more! A richly shining pearl mosaic tile is the perfect candidate for showcasing elegance in a coastal kitchen, glam bathroom or chic fireplace surround. If the upkeep of natural stone isn't appealing, pearl tile can be a much-loved option for your home thanks to its non-porous surface. 

Etched Marble Tiles
If you prefer to walk on the wilder side of the classic checkerboard pattern, you are going to love this option! With unique motifs that form a checkered look, these artisan tiles can be just the ticket for an unforgettable statement. Create an artsy checkerboard home decor with etched marble tiles in black and white interlocking patterns to dress up a grand entryway, or turn an entire wall into an architectural interest!
Whether you are drawing on the nostalgia factor, or want to dress up your space with black and white tiles, there is a unique version of checkerboard tile that will fit the bill: Moroccan Black Star & White Cross Etched Marble Mosaic Tile!
The combination of interlocking black and white etched marble tiles in star and cross shapes makes it easy to get the perfect mix and match look for a checkered bathroom floor, black and white kitchen backsplash, fireplace surround, or accent wall. Its surface details almost beg to be touched and inspected more closely, executing a bold look with some old-world feel, that looks like no other!

A Checkered Rug Look
Prefer a vintage vibe? Bring a retro charm to your floors with smaller scale hexagon mosaic tiles that can also serve as a creative tile rug for your entryway, bathroom floor, kitchen or living room. Adds a sense of whimsy to any checkerboard home decor project with hexagon mosaic tiles in two shades - a guaranteed winner if you're looking for a unique update! A great fit for old-home updates and new homes alike, it creates a sense of elegance, flow and lots of drama.
Set against a backdrop of gray furniture and plain white countertops, this retro style flooring with Selo Hex Carrara Marble Mosaic Tile stands out from all the clean lines of a modern mudroom design. 
Hexagon checkerboard mosaics produce exciting geometrical patterns while the mesh backing allows for quicker installation compared to large format hexagon tiles. If you want a more dramatic look, choose your hexagon tiles with high contrasting shades or brighter colors and it will create a magazine-worthy impact!
If you want square pattern floor tiles that exude elegance, lean into drama by choosing Boulevard Nero Marquina and Carrara Marble Mosaic Tile. These classy marble mosaic tiles are bold enough to bring character to any room, making an eye-catchy choice for checkerboard home decor!
Are you on board with the checkerboard trend?
Whether you stay classic with two-tone square checks, tap into your retro side with hexagon tiles or participate in the trend with unique tile layouts, the more creative you go with your checkerboard tiles, the more fun you will have!
So which tile design was your favorite? Leave us a comment below and don't forget to sign up for our newsletter and save 5% on all tiles online!