What's better than cozying up next to a warm (and beautifully remodeled) fireplace with a hot cup of tea on a cold rainy day? A gorgeous, freshly remodeled fireplace, of course! When it comes to finding the right fireplace tile for your next living room remodeling project, we've got a few ideas we think you're going to love; and a few others that may surprise you!
Don't let your fireplace design be an afterthought! This Recycled Glass Herringbone Mosaic Tile is ready to add that final touch to your super chic living room! 
Why Use Tile for My Fireplace Remodel?
Your fireplace has a superpower: it can change the entire look and feel of a room (for better or for worse). Luckily in this day and age, there are so many incredible material options for creating a stunning fireplace, and tile is one of them! 
Between the sizes, shapes, layout options, textures, and even 3D effects, there is an endless selection of tiles homeowners with design aesthetics of every sort can incorporate into their next fireplace redo. What's more, tile is a relatively inexpensive way to revamp the look and feel of any space and holds up better to everyday life than other traditional materials (we're looking at you, wood floors).
Whether you prefer ceramic tiles over porcelain tiles, love the look of glass tiles, want to go ultra-contemporary with some metal tiles, or keep it classy with marble tiles, you're in luck because all make great tiles for your new fireplace surround.
Now that we've got all of our playing cards out on the table let's dive into some different tile options you can add to your list of fireplace ideas!
4 Tile Fireplace Remodel Ideas To Spark Inspiration
Be Bold!
Sometimes the best way to bring out your room's character is to accent it with black details! This dynamic black horizontal stack subway tile fireplace by Austin, TX, installer The Tile Press adds a focal point to this airy mid-century living room with a white shiplap ceiling seen on Domino.
Get the look with Tile Club's Mallorca Black Ceramic Subway Tile.
Maybe you need fireplace makeover ideas to compliment a room already bursting with personality, or would love a fireplace that demands your attention the second you walk into the room. There are unlimited options for creating a fireplace that grabs your attention; you just have to know what vibe you're going for!
Who wouldn't want to warm their hands in front of this Pure White Mother of Pearl Mosaic Tile fireplace surround? Many people are surprised that shell tiles can be used as a fireplace tile, but they are much more durable than they look!
Large format tile is a great option when you need to fill a large space or want to avoid adding lots of joint lines to your design. It's also a great way to add a continuous effect for an interior that really makes a statement. We carry a huge selection of marble, porcelain, and glass field tile for fireplace projects that can match everything from a traditional layout to a brand new contemporary home.
Have a big space to fill? Large-format tiles are a great way to create a continuous look in any room, like this textured porcelain tile in a large format design. 
Between the gold crackles and the wood texture of the tile pictured above, this fireplace is bursting with character and life, demanding your attention as soon as you walk into the room. This is the kind of texture you want for a fireplace remodel designed to wow your guests!
Another great way to incorporate a bold look into your space is with complex designs, unique colors, or mirror effects. For instance, many of our glass tiles are designed with incredible hand-poured, cloud-like color effects for stunning tile designs sure to capture your guests' attention, or utilize printed designs to add natural patterns or creative details to a strong glass facing. The Quartz Geode glass tile pictured below is just one example of what we mean!
We never said bold had to be big, too! We're loving the way the unique variations and patterns within these Smoky Quartz Geode Glass Tiles  play on the movement of the flames. We think you'll love it, too!
...Or Calm, Cool & Collected
With neutral tones, soft textures, and the continuation of floors and fireplace surround, this is one living room we could cozy up in for a few hours! Install a Modern Flames electric fireplace to add a cozy look to any room - and finish it off with a heat-resistant fireplace surround, like King White Oak Look Porcelain Tile for floors and walls!
After a long, hard day, you deserve to relax in a room designed to melt your stresses away. What better way to do that than with a neutral space with a warm, glowing fireplace at the heart of it? To get this same calm, cool, and collected vibe from your fireplace redo, choose fireplace remodel ideas centered around warm, neutral tones and materials, like those pictured above. You'll see how the wood-like tile on the floor and fireplace create continuity within the room and tie it all together for a serene space you can feel right at home in.
A Textured Wooden Beige Honeycomb Hexagon Marble Mosaic Tile is just what the tile doctor ordered for this fireplace redo! The Wooden beige marble tile combines the beauty of everyone's favorite natural stone, but the warmth and rustic charm of wood-look tile.
Stay calm, cool, and collected with a timeless marble tile around your fireplace! There are so many variations of marble tile available, including shapes, textures, finishes, and sizes. If you want to keep it classic, redo the fireplace tile with a marble subway tile!
Add Shapes & Patterns
There are no right or wrong fireplace redo ideas, as long as the fireplace remodel end-result makes you happy. The same thing can be said about choosing a shaped or patterned tile. While herringbone or chevron tile might be the trendy choice, it may not be your favorite choice, and that's okay! There are plenty of other great tiles by shape to choose from, like basketweave, diamond, flower, oval, and even irregular-shaped tile for you to fall in love with.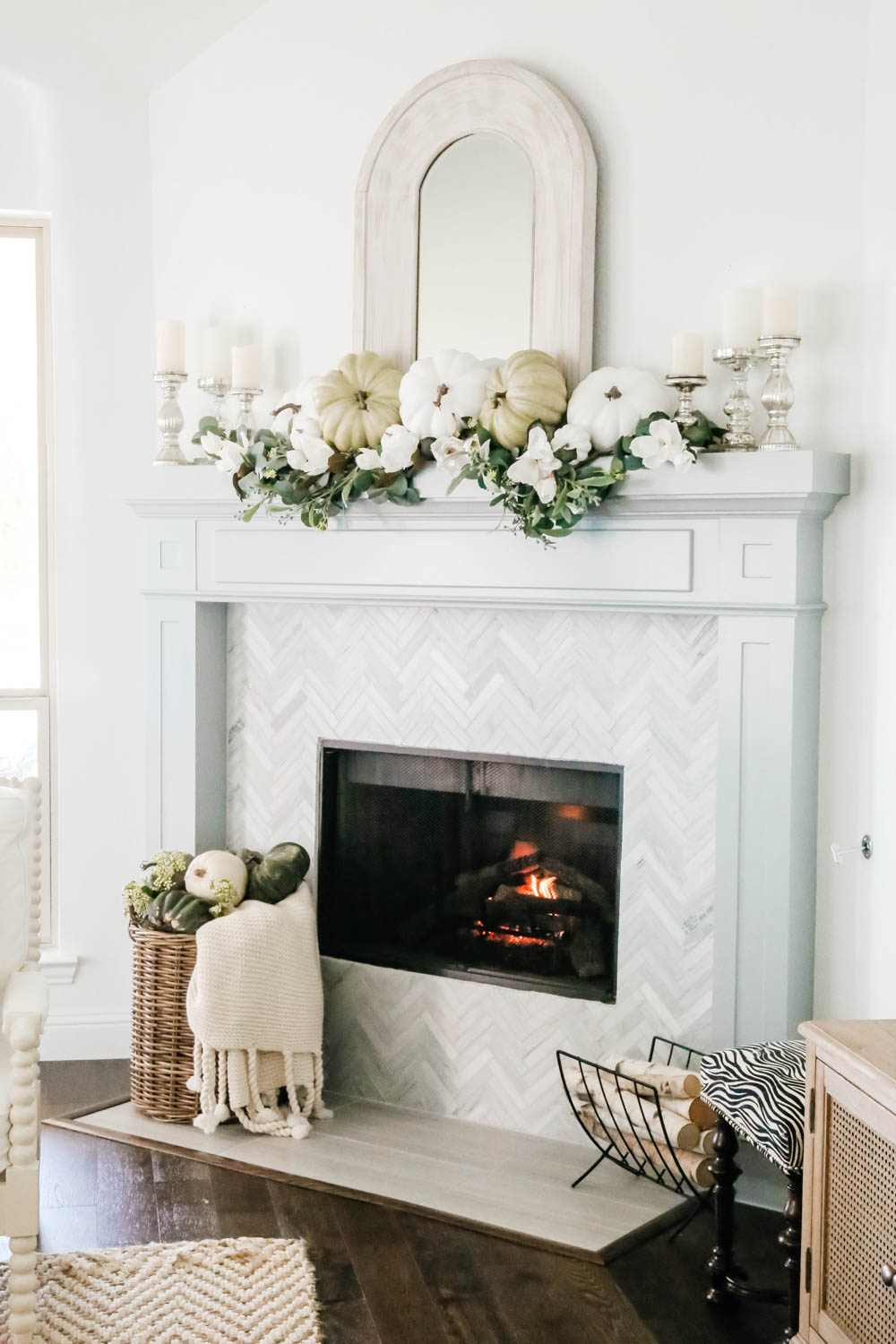 If your design style is always on the go, consider a transitional tile, like A Blissful Nest's chic living room focal point! With a neutral color and herringbone pattern, this tile will be a favorite for years to come, no matter what road your interior design style wanders down.
For instance, the herringbone pattern has long been a pattern choice for everything from mid-century wooden floors to brick fireplace layouts. It's a classic, and we just can't get enough of it! That's why we carry a massive selection of herringbone tiles in all sorts of materials to make your herringbone fireplace ideas and dreams come to life!
All arrows are pointing to a fireplace remodel well done with these Golden Arrow Marble Mosaic Tiles!
White arabesque tile, anyone? This Middle Eastern-inspired tile shape is a subtle yet captivating way to spruce up your fireplace surround, like this airy white and wood fireplace design seen on Bob Vila! 
What can we say? We love hexagon tiles! This Calacatta Gold Elongated Hexagon Mosaic Tile wall was a perfect addition to this fireplace redo, creating a spectacular center stage for holiday decorations and, of course, a glowing fire.
...Or Play with Textures!
Adding texture to your fireplace remodel is a great way to enliven your space. Incorporating textures like wood, reflective glass, or other tile designs with pattern and movement can help create a focal point and bring a room to life. But don't take our word for it! See for yourself with our Sails Crema Marfil and Carrara Etched Marble Mosaic Tile or the gorgeous wooden beige textured style of our Chevron Etched Subway Marble Tile.
Tile Club's Antique Circles Etched Marble Tile is the perfect example as to why you should want to add textured tile to your list of fireplace remodel ideas - this etched pattern in an intricate mandala shape adds subtle texture.
Tile Club's Tango Grey Wave 3D Porcelain Tile is the perfect tile to add textural detail to your fireplace remodel! We loved this creative customer install showing how they used our 3D porcelain tiles to add texture and detail to this gas fireplace and accent wall!
3D tile is another easy way to add texture to any space, and make incredible fireplace accent walls. Don't believe us? Just check out the bionic look of the Ionic Decor Code Copper 3D Porcelain Tile, or the stunning impression our Neutral Blanco Soho Porcelain Tile would make behind your fireplace!
No matter what direction your interior design arrow points, Tile Club has the perfect selection of tile to spark inspiration for your next fireplace remodel. With hundreds of tiles to choose from, we encourage you to really think about what kind of space you want to create and the redo fireplace ideas that align with your vision. In the meantime, we'll be here to answer your questions and look forward to seeing your results!